SALT LAKE CITY — The Church of Jesus Christ of Latter-day Saints is celebrating 100 years of its charter with the Boy Scouts of America by hosting an exhibit of oil paintings by famed illustrator Norman Rockwell.
The free exhibition, "American Originals: Norman Rockwell and Scouting," features 23 pieces. It opened Friday at the Church History Museum and will remain through the end of the year.
Rockwell is well-known for his Saturday Evening Post cover art, but he also illustrated hundreds of pieces of art related to Scouting.
Most of the paintings in the exhibit were created for the Brown & Bigelow Scouting calendar, which was popular in the U.S. in the 1930s, '40s and '50s, according to Mormon Newsroom.
Rockwell produced more than 50 paintings of Boy Scouts for the calendar from 1925 to 1976. They were then featured on the cover of Boys' Life magazine.
Rockwell wanted his paintings to represent the ideal Boy Scout and the virtues of Scouting, so he worked closely with BSA leadership on his artwork. In 1978 he told Scouting magazine, "I paint life as I would like it to be."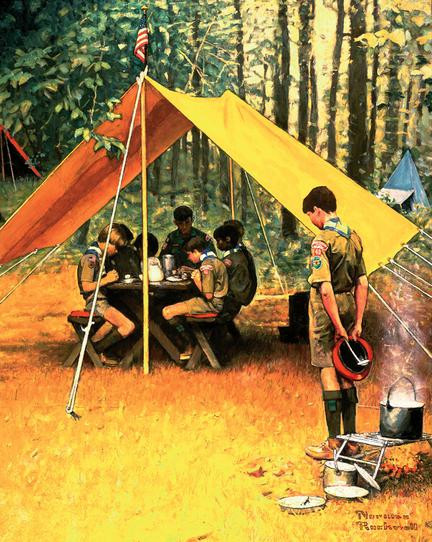 Rockwell believed his most popular Boy Scout calendar illustrations were "the three or four with a religious flavor," including "We Thank Thee, O' Lord," which shows a group of Scouts praying at a camp dinner table.
The museum also created an accompanying exhibit that focuses on the history of Scouting and the LDS Church. It includes the official charter outlining the partnership between BSA and the church, which was signed on June 9, 1913.
About the exhibit
The Church History Museum is located directly west of Temple Square at 45 N. West Temple Street in Salt Lake City.
The Norman Rockwell paintings will remain on display through Dec. 31, 2013.
The exhibition is part of the collection of the National Scouting Museum in Irving, Texas.
×
Photos
Related Links