SALT LAKE CITY — A piece of U.S. history is headed to Utah and organizers are seeking the public's help in making it a permanent memorial.
An art installation, one of 11 fashioned from concrete sections of the World Trade Center foundations, is currently in the process of being purchased for a planned memorial at the Fort Douglas Military Museum.
"We're fortunate enough to have one of those stones brought to Utah," said Raette Belcher, owner of Southwest Indian Traders in Park City and one of the organizers of the project. "We're getting a piece of history, the World Trade Center, that will be here at our University of Utah on campus."
Belcher said $185,000 is needed to purchase the artwork. She also estimated that roughly $60,000 in time and labor had already been donated to the project from various contractors, crane companies and architects.
"Everybody has stepped up to this," she said. "We're picking up more and more people who are trying to step in and see this is happening."
A benefit dinner and special presentation, hosted by Southwest Indian Traders, was held Friday, featuring Col. Gary Harter, Gov. Gary Herbert's Military and Veterans Affairs director; retired Utah National Guard Maj. Gen. Brian Tarbet; Curt Kellinger, a retired police officer who served during the Sept. 11 terrorist attacks; and Bob Voyles, director of the Fort Douglas Military Museum. The event was hosted by KSL's Nadine Wimmer.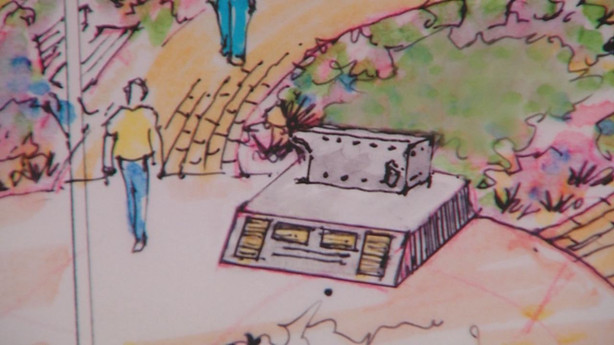 Belcher said the planned installation at Fort Douglas will memorialize those who lost their lives on 9/11, as well as Utah's fallen warriors who have given their lives during the War on Terror.
"It just gives me goosebumps to think we're doing this," Belcher said. "I want every one of them to be remembered somehow."
The project is being organized in collaboration with the American Fallen Warrior Memorial Foundation, which has worked with the artist to secure locations for the eleven foundation segments. Utah is scheduled to receive the piece, dubbed UT6, on Sept. 21.
Donations to the project can be made through www.AFWMF.com or through the KU Credit Union in Lawrence, Kan.
---
*KSL.com has not verified the accuracy of the information provided with respect to the account nor does KSL.com assure that the monies deposited to the account will be applied for the benefit of the persons named as beneficiaries. If you are considering a deposit to the account you should consult your own advisors and otherwise proceed at your own risk.
×
Photos
Related Stories