LONDON — A smart electric scalpel has proved successful in immediately detecting cancerous tissue, giving surgeons more hope in the fight against cancer and removing tumors.
Surgeons cut through tissue with the smart knife's blade, dubbed iKnife, and then smoke released from the cut is sucked into a mass spectrometer. The smoke is then analyzed, where subtle distinctions can be seen between healthy and cancerous tissue.
A recent study published in the Science Translational Medicine journal touts a 100 percent accuracy rate in deciphering healthy tissue from tumors, pooling from more than 300 patients.
Dr. Zoltan Takats, the knife's inventor, told the Guradian the iKnife could push boundaries in the medical field in terms of what is and isn't operable.
"Such cases that today are just opened and closed back up may now fall into the operable category," Takats said. "Often the problem is if there is an invasive but still localised tumour (sic), no-one has the courage to really go after it."
Takats, a Hungarian chemist, started looking into the idea of the iKnife after realizing he could analyze the smoke excreting from tissue after being cut. He described the smoke as a tarry mixture. He then decided to put it in a mass spectrometer to be analyzed.
From there, Takats and his group at Imperial College London developed a display that shows red for tumor cells, green for healthy tissue and yellow for something more ambiguous, according to the American Association for the Advancement of Science.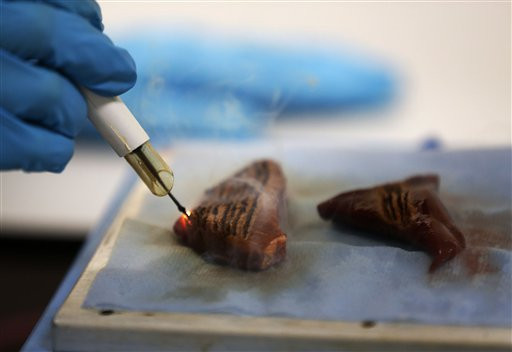 One of the more valuable aspects of the medical development is the knife's ability to determine the edge of a tumor. It can save doctors from cutting too much or too little, while helping speed up the process of identifying cancerous tissue. On the patient's end, the device could minimize time under anesthesia.
The study shows the iKnife was used successfully on 81 surgical patients. Three London hospitals are continuing to use and test the knife.
"This is part of what we call precision medicine," Jeremy Nicholson, head of the department of surgery and cancer at Imperial College London, told BBC. "We're trying to change the world by very aggressively translating scientific discovery in to the (National Health Service)."
×
Photos
Related Links
Related Stories