SALT LAKE CITY — "We're here for Glenn Beck."
Pam Fugate answered like many attending Friday night's rally by the conservative FreedomWorks group. She added "liberty" and "freedom" to the list.
"We're happy to see people who want a small government, like we do," she said.
The Fugates trekked to Utah from their home in Anaheim, Calif., for Beck's big weekend, which was packed with charity events, the Independence Through History Museum, a political rally celebrating the entrepreneurial spirit, and culminating in Beck's original show "Man in the Moon" on Saturday night.
Every event with Beck's name on it sold out far in advance.
"As soon as they put the tickets up for sale, they sold out," Steve Fugate said, gesturing across the busy USANA Amphitheater from his spot high up on the lawn. "We ended up in the grass. We should have gone that much quicker."
Beck's remarks Friday at the "Free The People" rally included criticism over the National Security Agency's data mining, a call to uphold Constitutional rights and a theatrical insight into Beck's original production "Man in the Moon," which premiered the next night.
Beck's multifaceted show is a storytelling of Earth's history as seen from the fabled Man in the Moon, and while Beck said he couldn't quite define it except to say its "a new art form," it incorporates high-definition video projections, live dancers, aerial performers, pyrotechnics, a World War II plane flyover and, of course, narration by Beck himself.
"It has just about everything in it," Beck said Saturday afternoon, taking a few minutes between rushed rehearsals for an interview.
Related:
Attendance at Saturday's show was expected to exceed 15,000.
Beck brought the debut of his original production to Utah partly out of convenience (he had his heart set on the Grand Canyon, but it was unavailable), but also because the Salt Lake Valley provided a welcoming environment.
"This is one of the more friendly areas to conservatives like myself," he said, recounting several memorable family vacations and his time volunteering with Stadium of Fire.
"I don't think there's a more patriotic state on the Constitution. It may rival Texas. I know that hacks off my home state of Texas, but I don't think there's anybody who upholds the Constitution and love of country as much as Utah," Beck said.
Staff, performers and the thousands of people who accompanied Beck to the Wasatch Front for his red carpet moment all raved about the friendly people they met and the sights they saw, Beck said. He's already imagining up a sequel to "Man in the Moon," and is now considering the possibility of making it an annual Utah event.
Utah's tempestuous summer weather was less welcoming, however. Rain leading up to Saturday night's show complicated the use of several high-definition projectors, and violent winds damaged parts of the set. Rehearsals were canceled, and the cast headed into the show following a performance by a powerful thunderstorm with less preparation than they had anticipated.
Nevertheless, the show went on, and spectators undeterred by the weather began arriving more than three hours early. Beck took a moment to walk out on the lawn to greet the waiting crowd and to thank them for braving the rain.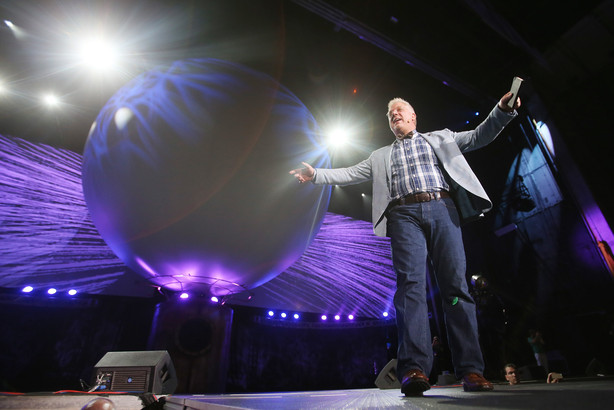 Among Saturday's crowd were BYU students Neal and Phil Varner, who had happily accepted the tickets from their parents and spent their weekend at Beck events.
"Politics today is just super confusing, and the reason I like Glenn Back is he relates everything back to principle," Phil Varner said. "In that sense, what he says appeals to me because it's something that can be universally applied."
Beck kept a busy schedule. He wasn't at the amphitheater preparing Saturday morning. Instead, he was at Liberty Park for the Huntsman Cancer Center's "Walk For Hope" event, a 5K walk to raise awareness for cancer research, where he mingled with fans and cheered on participants, tweeting pictures of the people he met.
"The answer to all of our problems is love," Beck explained. "If you want a smaller government or a less-intrusive government, you have to do it yourself. … See the plight of those less fortunate or those struggling as your own, to counter those, and to hold those up who are struggling. I mean, that's what Jesus teaches, and that's the only thing that's going to get us through dark times."
Beck's overarching mission right now isn't necessarily political, he said. It's spiritual. He envisions growing kindness across America, and specifically, faithful members of various religions who respect and admire one another.
"My greatest hope and prayer is that after ('Man in the Moon') and after this week, people that have felt something, that they would have remembered what it felt like to be at home, to be around good, decent people, and maybe something will spark inside of them," he said.
×
Photos
Related Links
Related Stories