SALT LAKE CITY — It may seem simple enough to understand size of the poverty problem, at least abstractly. In Utah, hundreds of thousands of residents live in poverty, surviving despite a lack of proper medical care, nutrition and a higher likelihood of mental and emotional problems. But getting a direct, concrete, visual understanding of the problem is often quite difficult.
The Urban Institute, a think tank and research organization, has produced an interactive website that combines mountains of data on poverty, race and geography in an easy-to-use infographic. "Poverty and Race in America, Then and Now" shows the changing makeup of Utah's poor over the last three decades, breaking the numbers down by race and location.
Each dot represents 20 people, with blue representing white people, green representing hispanic or Latino people, red representing Asian and Pacific Islanders and yellow representing black people, all superimposed over a map of, in this case, Salt Lake City. A slider allows you to quickly switch back and forth between data from 1980, 1990, 2000 and 2010.
"The history, geography, and politics of individual metro regions all matter profoundly, and any serious policy strategy must be tailored to local realities," the Urban Institute stated on its website. "To help take the policy conversation from the general to the specific, we offer a new mapping tool."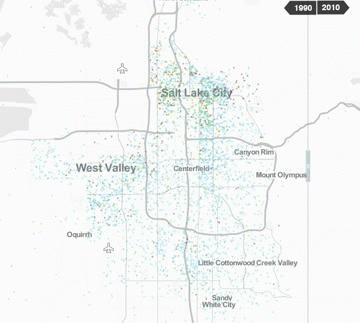 In Utah, the website appears to show an increase in the number of minorities living in poverty. Of the estimated 374,859 people living in poverty, 39 percent are members of a minority population even though minorities make up only 20 percent of the state, according to data from the U.S. Census Bureau's 2011 American Community Survey. Latinos alone comprise 27 percent of those living in poverty.
The data also shows that rates of poverty are highest among Native Americans, at 36 percent, as well as Asian and Pacific Islanders and Latinos, both at 28 percent.
The infographic also shows all the major metropolitan areas in the U.S., from any scale, allowing you to zoom in and out on any region of the map just like with Google Maps.
"For metro regions to systematically reduce poverty and expand opportunity, local civic and political leaders, advocates, and practitioners should start by sitting down together to understand the evolving realities of poverty, race, and place in their communities," the Urban Institute stated. "We hope our maps help catalyze these conversations."
Suburban areas have shown an increase in rates of poverty as well. The Brookings institution released numbers in June which indicate Salt lake City ranks third in terms of fastest-growing poverty rates in suburban areas.
×
Related Stories