SALT LAKE CITY — The legacy of the 2002 Olympics will always remain in Salt Lake City, but University of Utah and city officials are in the process of balancing what remains of that legacy with what they hope to accomplish in the future.
"The University of Utah has moved into the Pac-12, and with that is all kinds of excitement and change," said Gordon Wilson, assistant vice president for administrative services at the U. "Part of that Pac-12 move at some eventual point is the university's desire or interest to expand the stadium."
Expanding Rice-Eccles Stadium would mean moving some prominent symbols of the 2002 Games that now reside in the Olympic Cauldron Park, including the Hoberman Arch and the Olympic Cauldron. Though no timeline has been laid out and no official plans have been made, university officials have been in conversation with Park City and Salt Lake City to determine what best to do with the well-known works of art located south of the stadium.
"Where that is right on the south end zone, obviously, if and when we ever do our stadium expansion, that will kind of impede on the park," Wilson said.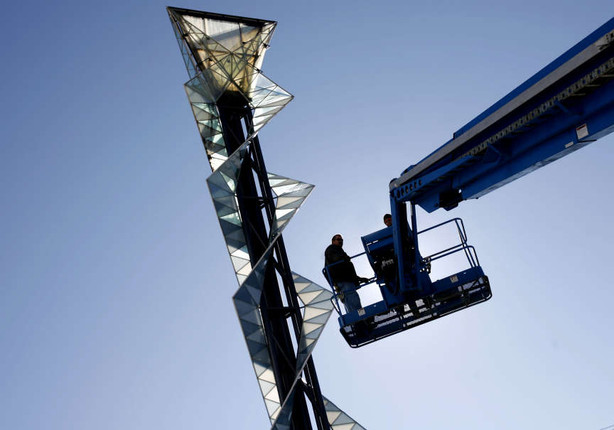 Wilson stressed that at this stage, planners are simply looking ahead so they aren't caught off guard in the future, while still preserving the history of the games.
The Park City Council discussed at a meeting on June 7 the possibility of relocating the Arch to their city — possibly near the Brew Pub lot on Main Street next to other Olympic-related sculptures. There was no consensus on the matter.
"I don't see it on Main Street," said City Councilor Cindy Matsumoto. "It's just too massive."
Wilson said they have stayed in contact with the Utah Olympic Legacy Foundation, which administers other Olympic sites not owned by the university, as well as the United States Olympic Committee. ULOF president Colin Hilton said that Downtown Salt Lake City makes sense, at least for the Arch.
"If there's a good home there, that might have a leg up on the others," he told insidethegames.biz.
No costs for moving the structures have yet been assessed at this early stage, according to Wilson.
"Costs will come into play at some point because Hoberman Arch, for example, is pretty heavy, pretty large," he said.
The structure weighs roughly 31,000 pounds and has actually been moved once before, from downtown Salt Lake City to its present location. It originally served as the platform where daily medalists were presented with their prizes.
×
Photos
Related Links