Estimated read time: 1-2 minutes
This archived news story is available only for your personal, non-commercial use. Information in the story may be outdated or superseded by additional information. Reading or replaying the story in its archived form does not constitute a republication of the story.
Alex Cabrero ReportingGovernor Huntsman announced today the winning design for Utah's quarter. It was between a beehive, the golden spike locomotive or a snowboarder.
Today was the 137th anniversary of the golden spike, so Promontory Summit made the perfect backdrop for the Governor's announcement. Utah's state quarter was unveiled to lots of applause from everyone who was there.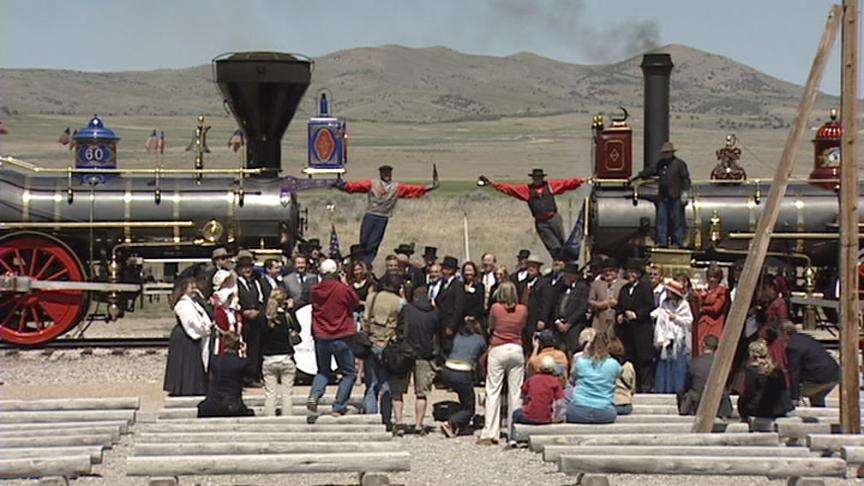 The design shows the two trains meeting at the spot where the Golden Spike was hammered into the rail-line, connecting East to West. Then, the Golden Spike ceremony where Governor Huntsman took part in re-creating the popular photograph of the Jupiter and 199 trains meeting nose-to-nose.
The Utah quarter will be minted next year.
Some in Box Elder County feel this is as big for them as the Olympic were to Salt Lake City.
Some people were there for the first time because of the quarter, meaning the tourism is already working.
The results were, 52 percent picked the Golden Spike, the beehive got 27 percent and the female snowboarder came in last with 21 percent of the votes.
The U-S Mint plans to make 450 (M)million Utah quarters beginning in January 2007, while most of them are expected to circulate outside the state.
Unfortunately, when the ceremony was over , the engineer mistakenly poured the coal to "The Jupiter" and, ran right into ole number "119" , both engine replicas.
No one was hurt. Damage, was minor.
(Associated Press Contributed to this Report.)
×
Most recent Utah stories