SALT LAKE CITY — A growing trend is sending more Catholics into the community two-by-two, door-to-door, spreading the faith one household at a time.
All across the country, members of the Catholic Church are "trying their hand at old-fashioned evangelism," reports Religion News Service. They're meeting in churches, basements and even conference rooms, learning how to take to the streets in a missionary style most associated with members of The Church of Jesus Christ of Latter-day Saints and Jehovah's Witnesses.
"We've been tricked into thinking faith is a private matter," says Kenneth Livengood, a parishioner at Holy Trinity Parish in St. Ann, Mo., who teaches Catholics how to form a door-to-door ministry. "That's a lie. Faith is meant to be public, and there are many ways to share it."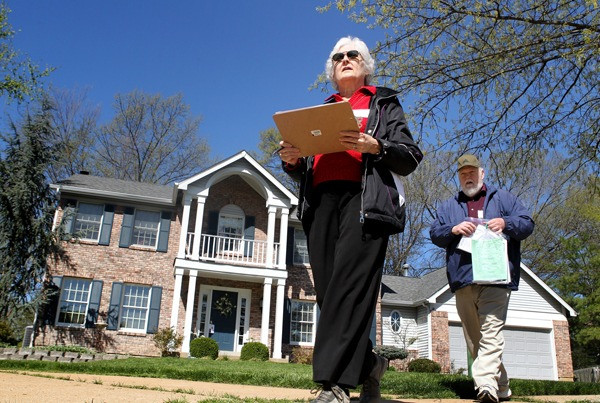 While evangelism, the spreading of the Christian gospel by preaching or giving personal witness, is a tenet of Christianity, it's "nearly foreign to modern Roman Catholics," according to Religion News Service. The Rev. Stephan Bevans, professor of mission and culture at Catholic Theological Union in Chicago, tells RNS that going door to door "is not really a Catholic practice that we've done often in the past. ... There have been so many of us we haven't had to do it."
But times are changing. In a 2011 meeting with Catholic Church leaders involved in new evangelizing, Pope Benedict XVI said, "Today's world needs people who proclaim and testify that it is Christ who teaches the art of living, the way of true happiness, because he himself is the path of life."
Benedict, who made "new evangelism" a priority and a theme in his papacy, continued, "Dear friends, being evangelizers is not a privilege but a commitment that comes from faith. To the question the Lord addresses to Christians: 'Whom shall I send and who will go for us?', answer with the same courage and the same trust as the Prophet: 'Here am I! Send me' (Isaiah 6:8)."
In response, a wave of Catholic evangelists have not only answered this call but devised myriad ways to help others spread their faith.
---
We've been tricked into thinking faith is a private matter. That's a lie. Faith is meant to be public, and there are many ways to share it.
–Kenneth Livengood, Holy Trinity Parish
---
Take Tom Peterson, a successful advertising executive in Arizona. According to Catholic World Report, Peterson decided to leave the business world after a spiritual experience 15 years ago and has since formed Catholics Come Home, an organization that works with dioceses to bring fallen-away Catholics back into the church. But he hasn't entirely left advertising; Peterson writes and produces TV ads with a "gentle, yet powerful invitation" to explore the Catholic Church.
"I believe I've been called to use my advertising talents to bring people to Christ," Peterson told CWR.
After the ads air, local dioceses say they see an increase in Mass attendance, up to an 18 percent increase. "One priest said that the Saturday after Catholics Come Home ads aired in his diocese, 16 people came to confession after a long absence who specifically told him they were prompted by the ads," according to CWR.
Another prominent evangelist is Austen Ivereigh, who was born and raised Catholic but left the church in his teens, later returning to the faith as a student at Oxford University. He went on to become a Catholic journalist, focused on the church's public image. He believes the church is poorly represented in the media, telling CWR that "when religion enters the public square and makes declarations of truth it is perceived as dangerous and fundamentalist and should be resisted."
Related
Ivereigh wanted to change that, and in 2010 he co-founded Catholic Voices. Based in London but now worldwide, the organization began with the purpose of ensuring the Catholic Church was well represented in the media. It created a "speakers' bureau of articulate young Catholics who could effectively present Catholic teaching" on contentious issues, according to CWR. Three years later, the group's success has led to the training of additional speakers, a series of workshops and the publication of two books.
Most Catholics who participate in the "new evangelism," however, do so the old-fashioned way. Livengood himself helps his parishoners do just that. He holds conferences to teach them how to form a door-to-door ministry, explaining things such as how to divide a boundary map of their parish into geographical sections and offering handouts, safety tips and videos that show the best ways to respond to questions and comments they may receive from those they meet.
No matter how these acts are carried out, Catholic leaders say evangelizing should be a priority, according to RNS. In 2012, New York Cardinal Timothy Dolan, in a speech to his fellow cardinals in Rome, called it a "sacred duty."
"The how of it, the when of it, the where of it may change," Dolan said, "but the charge remains constant."


×
Related Links
Related Stories