PROVO — The city's long-awaited recreation center is now hosting tours of its new pools, basketball courts, water slides, supervised child play areas, running track and weightlifting facilities.
And after a years-long process, $39 million in costs, the city will have a center to call its own later this month.
"A lot of cities have nice recreation centers already, and Provo wasn't up to that standard," said Cathy Smits, the building's aquatics supervisor. "So we just went all out. Now we feel like we've gotten a lot of our needs taken care of and have one of the best and nicest centers in the state."
The Provo City Recreation Center has scheduled an open house for May 11 and will open two days later — May 13 at 5 a.m. The new, 160,000-square-foot facility replaces Provo's old recreation center, built in 1973, that included only racquetball courts and a pool. It was torn down in March.
From 9 a.m. to 6 p.m. weekdays, residents can walk through the rec center every hour on the hour to look at what organizers say was engineered to accommodate families.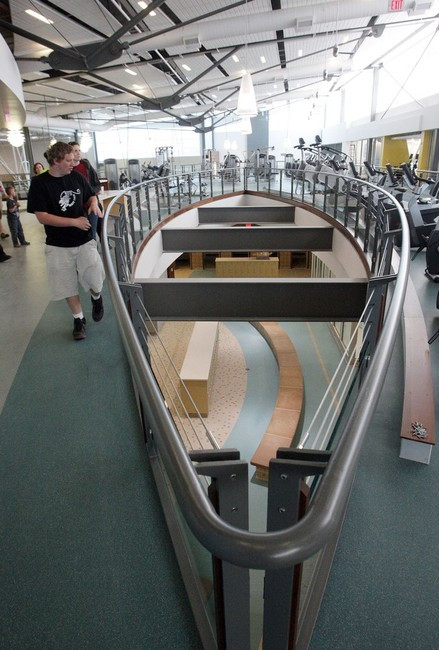 A half-dozen family changing rooms, for example, sit just outside the aquatics area. In contrast, more typical men's and women's locker rooms were built slightly smaller to allow for the extra space.
"(The family changing centers) are really remarkable," said Kelly Corbett, who toured the building Wednesday with her family. "It's one of the reasons I wouldn't go without my husband, not wanting to send my son through the men's locker room alone."
Corbett also plans to utilize the children's play area to free herself up for running errands or working out. She says that's something she usually runs all over town to do.
"It will be nice to say, 'Yes, you can go swimming, but you'll need to wait just right over here for a little while,'" Corbett said. "It's kind of just in between everything we do."
The recreation center also includes several small water slides, competition-size pools for high school meets, leisure pools and hot tubs.
It remains to be seen whether nearby water park Seven Peaks, about 17 blocks away, will be affected by the opening of the center.
Scott Henderson, assistant director of Provo Parks and Recreation, says the two facilities offer different services.
"This is not a water park concept," he said. "It has an indoor aquatic area, but it's nowhere close to the amenities offered at (Seven Peaks') outdoor product."
Henderson said he hopes the recreation center will increase physical activity among residents, leading to increased business for youth sports leagues, rock quarries and gyms in Provo.
"I'm just one of those theorists that the more fit people we have in our community, the more of a businesses model we'll create for other people in fitness and recreation," Henderson said. "That has always been what parks and recreation does best."
Party rooms, climbing walls and a skate park outside were also included in an effort make a city destination out of Provo's new recreation center.
Despite all the new space, though, one popular children's activity was left out.
"Video games," Henderson said. "If you're looking for a room where kids can sit around, that's not here. They get enough of that elsewhere. This is all about active recreation, getting people moving and promoting that active lifestyle."

Email: blockhart@deseretnews.com Twitter: benlockhart89
×
Photos
Related Stories