Estimated read time: 6-7 minutes
This archived news story is available only for your personal, non-commercial use. Information in the story may be outdated or superseded by additional information. Reading or replaying the story in its archived form does not constitute a republication of the story.
WEST VALLEY CITY — West Valley police have confirmed that a man was shot inside the police department Monday morning. Four months ago, he told police he wanted a "suicide by cop."
Sgt. Jason Hauer said that at about 8:30 a.m., 39-year-old James Ramsey Kammeyer walked into the police station at 3575 S. Market St. and asked the officer working at a desk behind protective glass to come into the lobby and talk with him.
The man was fidgeting in his pocket and behaving "abnormally."
The officer asked the man to remove his hands from his pockets, Hauer said. Kammeyer turned away, and the officer saw him draw a gun from his pocket. Kammeyer then turned back and pointed the gun at the officer and a record keeper working at the desk. The officer never came out from behind the glass.
"It's not normal that people come in to the lobby and say, 'Hey, come talk to me,' " Hauer said. "They're not afraid to approach the officers at the glass and the records clerks there and speak to them. This gentleman's behavior was abnormal for regular business."
At some point, the officer responding to Kammeyer called for help, Hauer said. Other officers that heard the call for help came into the lobby from another access point and were immediately suspicious of what was going on. An officer "engaged the suspect with multiple rounds," roughly 15 to 20 feet from the man.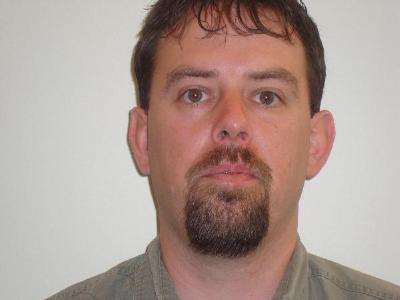 "When the officer involved felt that the threats were such that he needed to take action, he fired," Hauer said.
Hauer said at a noon press conference that Kammeyer was shot twice in the right arm above the elbow. He was later taken to a local hospital for treatment, and then released Monday evening.
Detectives attempted to interview Kammeyer, but he declined to speak with them. "He has invoked his Miranda privilege and is not going to offer any statement," Hauer said.
Acting West Valley Police Chief Anita Schwemmer said the shooting was frightening, even for trained officers. She offered her gratitude for the bulletproof glass and metal plating funded by the City Council and installed just six months ago.
"Those remodeling changes were done to that lobby for this specific purpose, because, of course, there had been attacks around the nation on other police departments," Schwemmer said.
The suspect's history
Hauer said the department has had a history with Kammeyer. In December of 2012, police responded when Kammeyer threatened suicide with a knife and apparently cut his wrists. Kammeyer said he wanted to die from suicide by cop, Hauer said.
According to Hauer, the man said he wanted to die because he was a registered sex offender and his wife was taking his kids away from him.
Records show that Kammeyer was charged with sex abuse of a child and sodomy of a child in August of 1998. He pleaded guilty to sex abuse of a child, a second-degree felony, in 1999. The other charge was dismissed.
A prison sentence was suspended in favor of three years probation. He was also ordered to undergo sex offender treatment and register as a sex offender.
The Salt Lake County District Attorney's Office has been notified and will be jointly investigating the incident, as is standard protocol in the case of an officer-involved shooting, according to Hauer.
Police are investigating Kammeyer on multiple felony charges, but Hauer said exactly what charges still had not been decided and would be based on the ongoing investigation.
He said police had been talking with Kammeyer but that he had not provided much information. Search warrants were being executed on Kammeyer's home and vehicle early Monday afternoon, though Hauer wouldn't say precisely where. Hauer said police were trying to establish a motive and looking for any "notes" that might indicate what he was planning to do.
Kammeyer's family has been accounted for and is safe. He had recently been estranged from his wife, Hauer said.
The parking lot west of the department was blocked off just after the shooting and the TRAX Green Line, which has the Central Station stop nearby the police station, was temporarily shut down. TRAX trains were also searched by police officers, including the use of dogs.
Witnesses recall shooting
How many shots were fired is still unclear. Witnesses on a TRAX train and interviewed by KSL said that they saw shots being fired from outside the police station, but Hauer said all shots were fired from inside the lobby.
Just outside the police station, where there is a TRAX platform between it and the West Valley City Hall, a train had just pulled up at the time of the shooting. Passenger James Tabler said he watched as an officer outside the building moved quickly toward the lobby.
"I watched a cop walk up with his gun drawn. He got to the brick wall, and all of a sudden I saw five shots come out of the building," he said, adding that he heard five to six shots.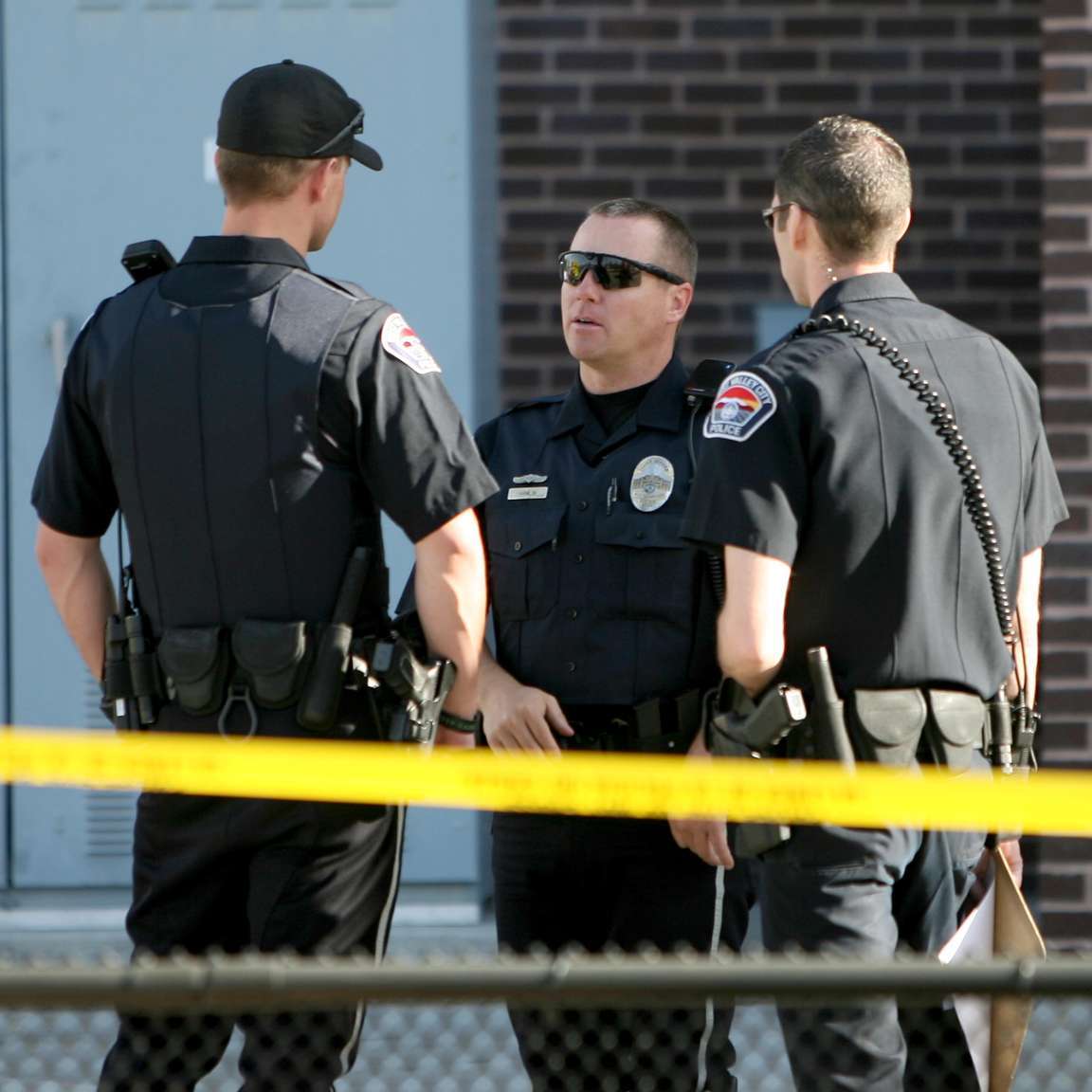 Bullet holes were visible in the glass of the police department lobby Monday.
TRAX passenger Bonnie Barkhimer also heard the shots.
"Then we heard what sounded like firecrackers and I jumped over the seat into this lady's seat and asked her if she saw what we thought we saw, and people came swarming out of the police station," she said. "Everybody on the train was ducking and covering and we had no idea where the bullets were coming from."
Witnesses reported a large police presence outside the building but said that police appeared to be "calm."
West Valley City mayor reacts
"It turned out to be a very eventful Monday morning and a very tragic Monday morning," said West Valley City Mayor Mike Winder on KSL's Doug Wright Show.
"It's sobering, it's very sobering. We have brave men and women in our police department that put their lives on the line every day," Winder said.
"To have someone walk into a sanctuary, so to speak, into a public safety building and pull a gun, It's unconscionable."
Wright also asked Winder if this could be connected to the thrown out cases and corruption investigations ongoing in West Valley City. Winder said anything is possible but the city successfully prosecutes thousands of cases each year, any of which have the potential of making people upset at the city.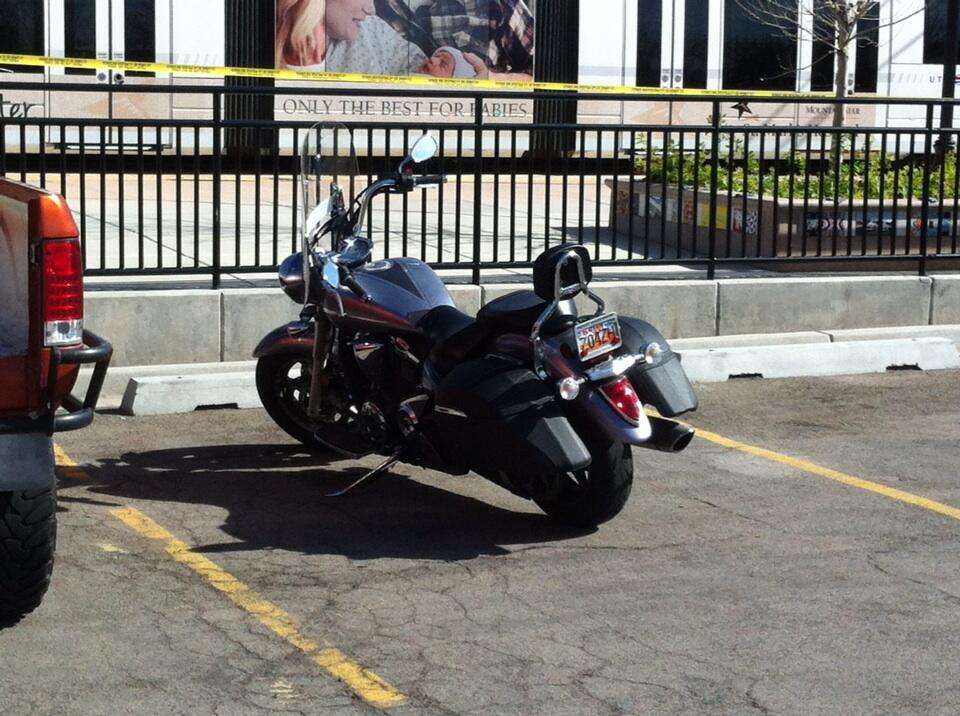 "All it takes is one person crazy enough to pull a gun inside a public safety building and we get an incident like this," Winder said.
Ninety eight state and federal criminal cases investigated by the West Valley Police Department have recently been dismissed because of credibility issues surrounding allegations of corruption within the department's Neighborhood Narcotics Unit. Nine officers who worked in that now-disbanded unit are on paid administrative leave while investigations by the FBI and the Salt Lake County District Attorney's Office are underway.
An internal investigation uncovered problems within the unit that includes an undisclosed amount of missing drugs and money, the theft of "trophies, trinkets or souvenirs" from drug-related crime scenes, the use of GPS trackers without first securing a warrant, improper use of confidential informants, improper handling of evidence within the drug unit, as well as officers taking small amounts of cash and other items from seized vehicles.
Contributing: Shara Park and Andrew Adams
---
×
Photos