WEST VALLEY CITY — Investigators in Boston said Tuesday they had learned more about the attacks on the Boston Marathon on April 15. They said Dzhokhar Tsarnaev, the surviving suspect, was likely not the mastermind behind the attack, but that both brothers appeared to have been acting alone, motivated by a desire to protect Islam.
During FBI questioning, Dzhokhar Tsarnaev said the motive behind the bombings was "religious fervor," an answer that Utah Muslims, as well as his own countrymen, found offensive.
The Pew Forum also released Tuesday a survey of Muslims in the area where the Tsarnaev brothers were born and raised who are greatly concerned about extremism there. And the day of the bombings, Imam Mohammed Mehtar, the religious leader at Khadeeja Islamic Center in West Valley, released a statement titled "A Criminal Has No Religion!"
Prayers at the mosque take place five times daily, but Utah Muslims are again concerned about how others see them. Mehtar said Islam does not stand for terrorism.
"We know that people who commit such acts of violence, they are not a part of us," he said. "In fact, there are no less than 1 ½ billion Muslims. That's approximately 20 percent of the population. And if we look, the majority of Muslims are not violent."
He condemned the bombings in his statement released last week.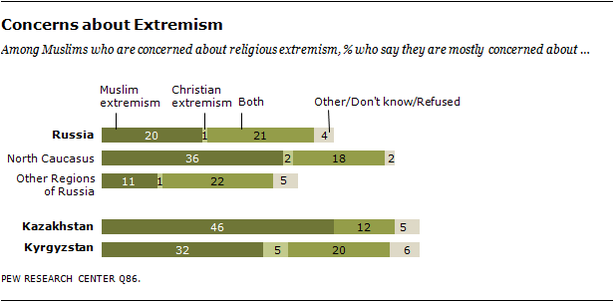 "We unequivocally condemn such a cowardice act aimed at harming innocent civilians," the statement said. "We stand in support of the citizens of Boston in overcoming this tragic event, and in prayers for the victims of this reprehensible criminal act."
A Pew Forum survey, done from 2011 to 2012, shows Muslims from where the suspects were born said they worry about extremism. In the North Caucasus, which includes Chechnya and Dagestan, 56 percent said they are very or somewhat concerned.
The Imam believes he and others should tell authorities when members of their congregations make threats.
"When we sense that there is a problem, immediately it is our duty as Muslims to report it to the appropriate places, to eliminate any possible backlash that may take place down the line," Mehtar said.
The Pew Forum survey also asked Muslims in the North Caucasus area about suicide bombers. A huge number 93 percent said it is never justified.
×
Related Stories