This archived news story is available only for your personal, non-commercial use. Information in the story may be outdated or superseded by additional information. Reading or replaying the story in its archived form does not constitute a republication of the story.
SALT LAKE CITY — A Salt Lake City man claims he was the victim of a hate crime after allegedly being beaten and called derogatory names Thursday night.
Sage Judd said her son, 23-year-old Cameron Judd, went outside Thursday night to ask a group of men to remove their belongings from the side of the Judd's apartment. When the men said no, Cameron insisted.
"My son didn't move," Sage Judd said. "He said, 'Here's what you're gonna do. You're gonna grab your stuff and go back to wherever you're staying and get out of our yard.' "
Judd said the men turned around and muttered something. When Cameron asked them to repeat what they said, they allegedly called him a gay slur.
"I ran across the alley, and by that time there were two men on him. I jumped in and one of them popped me in the head," Judd said. "They beat him so badly, his entire face was bleeding."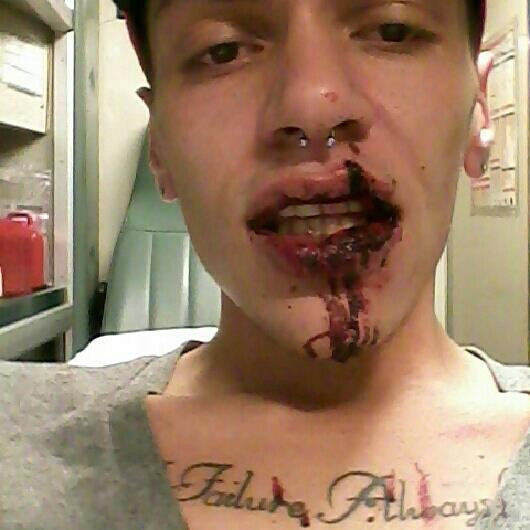 Cameron told his mother he could not breathe and asked her to call the cops, Judd said. As she was trying to call 911, some women who were apparently with the men appeared and began throwing rocks at her, she said.
The Salt Lake City Police Department confirmed an incident was reported at the Judd's residence near 200 W. Paxton Ave., but could not confirm the amount of people involved. Detective Veronica Montoya said the incident could have been a neighborhood dispute, as the men involved came from the residence next door to the Judds.
Responding to questions about whether police had failed to consider if the alleged actions were hate crimes, Montoya said investigators were considering all possibilities.
"A victim's a victim," she said. "We don't look at who's the report coming from, or who is making the report. We treat every victim the same."
Montoya said the police department has a civil review board the Judds can approach if they feel the case has been mishandled. She said no complaints in the case had been brought to her attention as of Friday.
Cameron Judd first went to Salt Lake Regional Hospital before being treated at LDS Hospital. He received 30 stitches inside his mouth and requires reconstructive surgery, Sage Judd said.
"They split his mouth open from his bottom teeth halfway down his jaw," Judd said. "He has follow-up appointments and then needs reconstructive surgery after that."
The Judds may have a difficult time proving the incident was a hate crime, according to civil rights attorney Steward Gollan. The 1976 Civil Rights Act does not protect gays, he said, and under the Utah Hate Crimes statute, prosecutors must show intent.
"If you behave towards somebody in such an egregious way that you know and any reasonable person would know that that's going to inflict severe emotional harm on them, you could be held liable for that as a private company or a private person," he said.
Contributing: Nkoyo Iyamba
---
×
Photos