SOUTH SALT LAKE — A weak steel cable thwarted an early-morning attempted robbery on Easter. South Salt Lake police are now looking to the public for help in identifying suspects.
At about 12:30 a.m., two men were recorded on surveillance cameras attempting to break into a Zion's Bank ATM at 3900 South and 700 East using a truck and a steel cable, according to South Salt Lake police spokesman Gary Keller.
The robbers pried open the front cover of the ATM and attached a heavy steel cable to the handle of the internal safe. After attaching the cable to the rear end of their truck, they tried to drive and pull the safe out, Keller said.
However, the cable broke and the would-be thieves fled the scene, according to Keller.
Keller said a hospital worker discovered the cable, still attached to the safe, at about 4 a.m. and called police.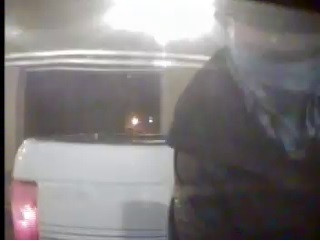 The vehicle is described as an older model white Ford pickup with three very noticeable blue or light purple stripes on the passenger side. The rear wheel well of the passenger side is also rusted out.
One suspect is described as a white male with medium build, wearing a dark hoodie, baggy shorts and gym shoes. He also wore a gold ring on the left ring finger and had a backward facing baseball cap.
The second suspect can only be seen sitting in the vehicle, with an arm visible out the window.
Anyone with information on these individuals should contact South Salt Lake Police at 801-840-4000.
×
Photos