Estimated read time: 2-3 minutes
This archived news story is available only for your personal, non-commercial use. Information in the story may be outdated or superseded by additional information. Reading or replaying the story in its archived form does not constitute a republication of the story.
WAYNE COUNTY — Among the quiet, isolated red rocks of Wayne County is an ongoing science experiment. A group of Peruvian university students just finished studying the best way to help an injured astronaut on Mars.
"This area of Utah is unique. As you can see, the reddish color of the rocks absolutely gives you a feeling that you're on Mars," said Alex Diaz, Team Peru's mission commander.
"Not many places have this 'Mars habitat,' so they've picked this place correctly," he said.
Diaz is a NASA finalist in a group of potential future astronauts. His crew, Team Peru, is one of 13 teams competing in the 2013 "Building the Future of Mars" program, at the Mars Desert Research Station.
Each morning, his group planned their day and geared up in space suits. Their suits were not pressurized, but they were equipped with a cooling system.
"It's a little uncomfortable, but it's very interesting to have it," said Humberto De Las Casas, a student on Team Peru.
As commander, Diaz was the only one who didn't suit up as he directed each scenario.
But the exercise teams like Diaz's do goes well beyond a day in the desert. For two weeks, crews of six live inside a sort of space habitat — the room is tight, and the sleeping quarters are small.
"This week it was very fantastic. We made a lot of new things that we are not used to in our country," said Saul Trujello, also of Team Peru.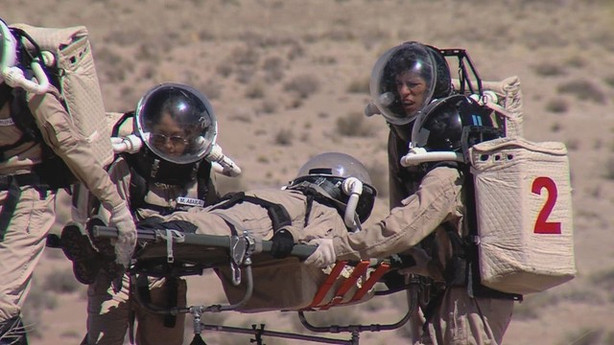 Each of the students studies mechatronic engineering — the kind of science behind space rovers. In their work, they try to simulate just about everything they would need to live on Mars, even maintaining a greenhouse.
"(Astronauts) are not going to take food, but cultivate plants and harvest them," said Monica Abarca, another member of Team Peru.
The work the students do in the field is much more than scientific role-play. They're collecting data that will be sent back to NASA.
"It is not a matter of 'if,' but a matter of 'when' we'll have an injury or emergency when an astronaut is performing an extra-vehicular activity," Diaz said.
This whole program was set up 2002 by The Mars Society, which is based in Colorado. Today, international groups like this one are what keep it alive and thriving.
"It's the hope of every space enthusiast, that we'll be soon sending a human mission to the moon, and to Mars," Diaz said.
With each drill, every bit of data collected, the hope is that the dream of a mission to Mars is being pushed closer into reality.
Engineering students conduct their work at the Mars Desert Research Station place every winter. The 2013 season began in December 2012, and teams will rotate in and out through mid-May.
×
Photos
Related Links
Related Stories