Estimated read time: 2-3 minutes
This archived news story is available only for your personal, non-commercial use. Information in the story may be outdated or superseded by additional information. Reading or replaying the story in its archived form does not constitute a republication of the story.
WEST JORDAN — Two years ago, when a teenage girl was hit and killed at a TRAX crossing in West Jordan, neighbors demanded better safety.
In June 2011, Shariah Casper and her cousin were crossing TRAX at 3200 West and 8600 South. The Utah Transit Authority was testing its TRAX trains on the line at the time.
After an eastbound train went by, Casper stepped out to cross the tracks. She never saw the speeding westbound train that hit and killed her.
Casper's death helped further the process of finding a safety standard for rail and pedestrian crossings.
"Every accident plays a role in our continuous improvement of pedestrian safety," said Todd Provost, with UTA's Engineering and Project Development department.
Ultimately, UTA decided to upgrade not only that deadly rail-pedestrian crossing at 3200 West and 8600 South, but all similar rail crossings system-wide.
"We were not happy with the pedestrian crossing standards that were out in the industry," Provost said.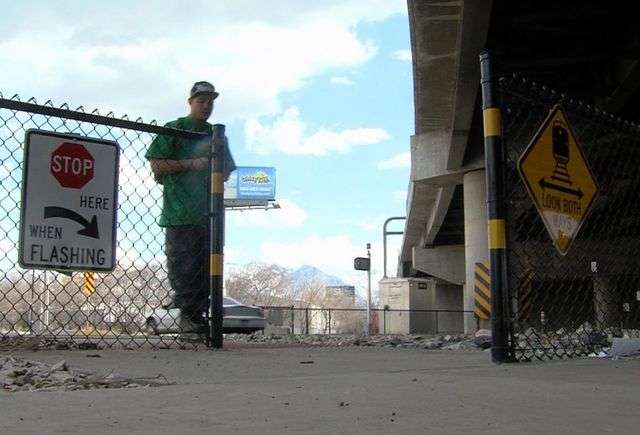 He and a team of safety engineers set out with the Utah Department of Transportation and Union Pacific to build better pedestrian crossings for TRAX and FrontRunner lines that did not already have signaled crosswalks.
"The focus and emphasis over the last two years has really been on the pedestrians," Provost said.
UTA is upgrading 160 crossings in all; 70 are already complete. FrontRunner South was built with the crossings; FrontRunner North and the mid-Jordan and Draper TRAX lines are getting the upgrades now. UTA expects to finish them all within a year.
"The simplicity of this design is really the key," Provost said, pointing out the clear signage and simple fencing at the already upgraded 900 South and 600 West crossing.
"What we're looking to do is keep the pedestrian from making a straightforward move across the intersection without looking to the left or right," he said.
The crossing is designed to grab a pedestrian's attention — it takes into account the fact that too many people walk around with their heads buried in cellphones. As people approach the crossing, they run into a fence. They are then forced to change their line of travel, look up, and step to the right to proceed to the crossing.
"I think it's a good idea because the kids don't pay attention. And when (engineers) make it a little harder, they have to pay attention," said Terry Robinson, who lives in the neighborhood where Casper was killed.
"By having to move around a little bit, they have to pay attention," she she said.
UTA engineers believe that is exactly what will save lives.
---
×
Photos
Related links
Related stories
Most recent Utah stories