MAGNA — The Hubble telescope has been responsible for some of the most dramatic and downright incredible photographs taken of our universe, aside from pushing astronomical science forward. But the time for a successor to the venerable Hubble has come and a critical part of it is being built in Utah.
NASA's James Webb Space Telescope will be launched in 2018. Its mission is to look far, far into the universe's past and study the earliest galaxies and star systems using infrared light. The telescope is a huge complex of beryllium mirrors that will operate at extremely cold temperatures.
Before it can open its eye, so to speak, it has to get up to space. That's no easy task. Utah's ATK rose to the challenge to build the Webb a set of wings that will allow it to fold its 18 mirrors into a compact shape and then unfold once it reaches its stable orbit. Without this, the telescope would be too big to launch.
It's a job that requires absolute precision, so much so that a change in size of less than the width of a human hair would render the telescope useless.
"We will measure the accuracy down to nanometers — it will be an incredible engineering and manufacturing challenge," said ATK Webb Program Manager Bob Hellekson. "With all the new technologies that have been developed during this program, the Webb telescope has helped advance a whole new generation of highly skilled ATK engineers, scientists and craftsmen while helping the team create a revolutionary telescope."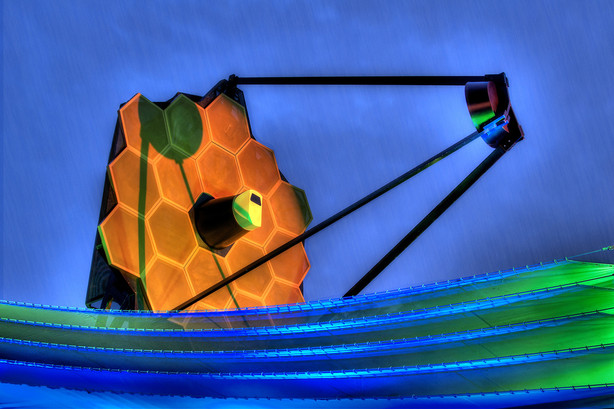 Even the smallest changes in temperature or shape can distort the beryllium mirrors, causing images to be out of focus or entirely useless. The entire wing structure, which will weigh 2,000 pounds, can't expand or contract by more than 38 nanometers, which is one-tenth the size of a human hair.
The Webb also has to stay very cold. To do that, the telescope will operate in a special orbit where the Earth will always be blocking most of the light from the sun. In the earth's cold shadow, the telescope can study the infrared light from the early universe, as well as scan for planetary systems and other interesting phenomena.
It could also play a role in the search for extraterrestrial life. It will be able to detect the presence of methane, water and other compounds that could indicate the conditions for sustaining life.
"This is another milestone that helps move Webb closer to its launch date in 2018," said Geoff Yoder, NASA's Webb program director.
The construction is taking place at ATK's facility in Magna, Utah.
×
Photos
Related Links
Related Stories