SALT LAKE CITY — It's been a while since Utah basketball fans have felt like this.
It may just be a four-game win streak but Utah's recent stretch of winning, including two heart stopping performances in the Pac-12 tournament, has reminded fans of great tourney runs in the past and has many people talking about the Utes again in a positive way.
It's only been four years since Utah won the Mountain West Conference tournament and earned a 5 seed in the 2009 NCAA Tournament but it feels like it's been forever.
That's the last time the Utes enjoyed a four-game winning streak.
Remember last year when Utah basketball was the punchline of many jokes? Not this week.
The Utes have earned respect from coaches and players in the Pac-12 and find themselves two wins away from earning an automatic bid to the NCAA Tournament.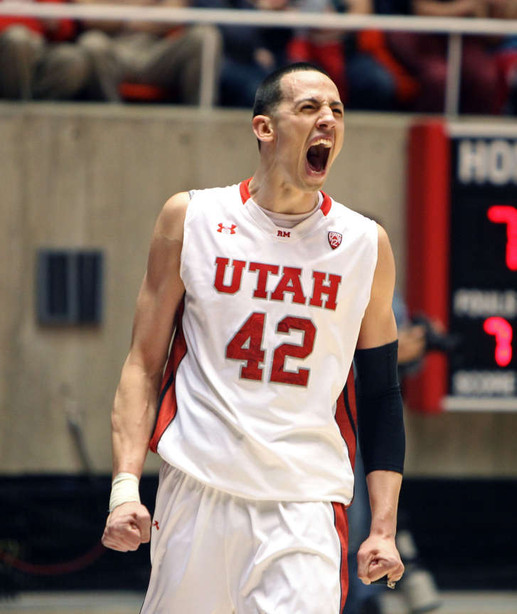 "Give Utah credit. They're playing very, very well," Cal coach Mike Montgomery said after his team fell to the Utes in the Pac-12 quarterfinals. "Larry's done a great job with them. They're playing with a lot of confidence."
When was the last time you heard Utah basketball and confidence in the same sentence?
This run seemed improbable before the week began but now fans are rushing to Las Vegas to show their support for this team.
The past four wins show the progress that head coach Larry Krystkowiak is making with this storied program.
When Krystkowiak took the job he inherited just four scholarship players. His first year the Utes won six games and just three in league play. The program ranked almost dead last in RPI among 347 teams in the country. They finished 11th in their first year in the Pac-12 and with the worst record in school history. The Huntsman Center felt like a ghost town during home games.
This year felt like starting over again with just two scholarship players returning from that 6-25 team. It looked like more of the same as the Utes lost home games to Sacramento State and Cal State Northridge but by December there was visible improvement. They battled BYU in the Marriott Center and led in the second half before falling in the final seconds. They almost opened Pac-12 play with some major upsets but came up short losing in overtime at Arizona State and falling by just three at then No. 3 ranked Arizona. They were coming close but the wins still weren't happening. They opened conference play 0-5 and many fans and media were questioning if Krystkowiak was the right guy to get this program turned around.
"It was really a strain on all of our psyche's to stay with it," Krystkowiak remembers.
---
Give Utah credit. They're playing very, very well. Larry's done a great job with them. They're playing with a lot of confidence.
–Cal coach Mike Montgomery
---
You couldn't see it by looking at wins and losses but it was clear this team was much different. The talent and depth was still lacking but this team played hard.
Eventually they earned some important wins. There was the stunning victory at Washington, home wins over Colorado and Arizona State, and then last saturday's win over then 19th ranked Oregon. The Utes improved their win total from six last year to 13 this season.
A great example of progress was seen in senior center Jason Washburn. Two years ago before Krystkowiak arrived Washburn didn't even look like a division I player. Under Krystkowiak's tutelage Washburn emerged as a leader on this team and one of the best big men in the Pac-12. He was named honorable mention All-Pac-12 at the end of the regular season.
Another big step for the program was winning a major in-state recruiting battle for Jordan Loveridge. Adding the 2012 Utah Mr. Basketball was a big get for Utah who had struggled the past few years to win any local recruiting battles with not only BYU but also Utah State. Loveridge has been a solid contributor this season as a freshman and has really emerged in the past four games.
The Utes will add more talent next season with junior college star Delon Wright, the younger brother of Philadelphia 76ers guard Dorrell Wright. They are once again landing some of the top talent in Utah. Parker Van Dyke, a 6-2 point guard from East High School, will join the program next year and is expected to have an immediate impact.
The future looks bright for this program after some lean years but for this year's team the future is now. They have a chance to shock the entire country with two wins and they have shown they have the confidence and experience to make it happen.
"At this point in the season I think our guys have learned all the lessons you can learn," Krystkowiak said after the win over Cal. "We're putting some things together where we're not overly deficient in one area. That's what's given us a chance to compete."
In no way does a four game win streak and an improbable run to the conference tournament semifinals signify that Utah basketball is back but the run this team is enjoying could be a huge step in that direction for a program starving for success.
×
Related Links
Related Stories