Estimated read time: 5-6 minutes
This archived news story is available only for your personal, non-commercial use. Information in the story may be outdated or superseded by additional information. Reading or replaying the story in its archived form does not constitute a republication of the story.
SALT LAKE CITY — I have been asked by a few people to write about what they should do and expect during a traffic stop.
I need you to understand that each police officer is different. Each one prioritizes things differently. This article is just covering general guidelines on best practices when being stopped by the police. I have been pulled over a few times and I have tried to follow these same guidelines out of respect.
The pull over
When a police officer turns on their emergency lights behind you, you should try to pull to the right side of the roadway when it is safe to do so and there is enough room for you to be clear of traffic. I have had to coax people to continue driving to a safer spot with my siren or PA system. Some parts of the road — especially freeways — can be extremely dangerous for both parties.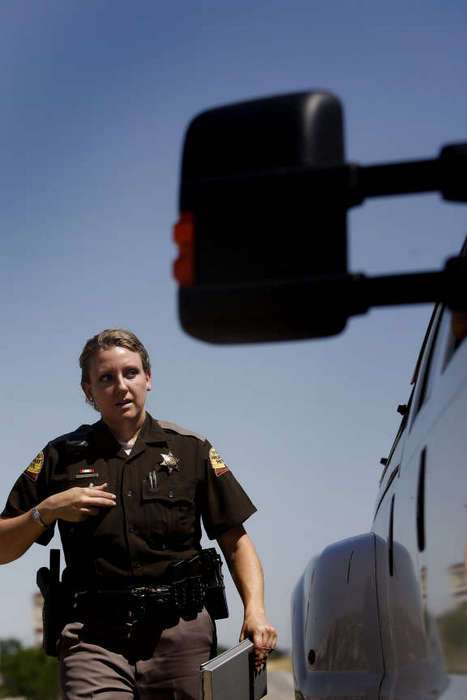 You're in the spotlight ... for safetyAt night the police officer will shine their spotlight or other lights directly at you. This is for safety and not just to tick you off. I recommend not looking in your side view mirror when the spotlight hits it as your eyeballs may melt like the Nazis in "Indiana Jones" — or something like that. It may seem like forever as the police officer approaches your vehicle, but they have to radio in the stop, put their car in park (I have forgotten that), undo their seat belt (also forgotten), exit and approach the vehicle when it is safe to do so.
No rummaging
As the officer is approaching, you should not be looking through your car, glove box, purse or briefcase. Keep your hands where the officer can see them and stay calm. The last thing an officer wants to see is someone making furtive movements in the car. We see that and immediately think they are accessing a weapon or trying to conceal something illegal.
Casual greeting
The officer should approach your window, greet you, identify who they are and who they work for, and advise you on why they have stopped you. Now this first part can vary greatly as some officers feel personally offended that you have broken a law on their roads or they are having a bad day and may not be as friendly as they should. You, the driver, could have also done something so terribly negligent that this has upset the officer out of fear for others on the roadway that they may yell initially.
I was directing traffic at a parade once and a car came crashing through all the barricades, nearly hitting me. Something on the person's phone must have been extremely interesting, like one of those kittens-who-can-say-I-love-you videos. Suffice to say I may have yelled at that person before my adrenaline leveled off.
#poll
No such thing as a good excuseThere is no right thing to say to an officer to assure that you will not be receiving a ticket. I will warn you that there is a way to receive a ticket every time and that is being rude to the officer or arguing with them. More than likely they have heard every excuse: "I'm late for my test, doctor's appointment, job interview, and whittling competition." "I don't think that stop sign is red enough." "I just ate a fire hot burrito." Most of them won't work unless you're having a baby, which only works with women ... who are having a baby.
Usually, I had already made up my mind whether I was going to be giving a ticket to the driver before I approached the vehicle. However, in a few instances I had been convinced either way as I was speaking to them. One lady told me to hurry and give her a ticket, even though initially I had no intention of giving her one. I made her day.
Be upfront, don't put up a front
Hand the officer your driver's license, insurance and registration when they ask for it. If you don't have it with you or it's in the glove box, advise them that you are going to retrieve them and tell them where they are. If you have a concealed weapon you can either advise the officer of this upfront or hand them your concealed weapon's permit and advise them. The officer may ask you where it's at or they may thank you for letting them know.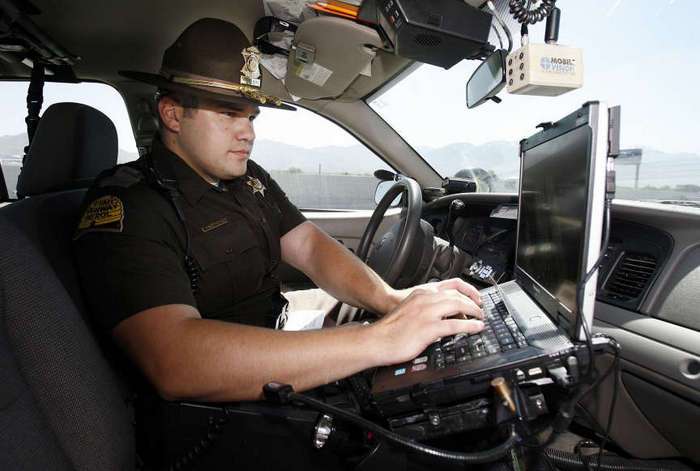 The officer will then go back to their patrol vehicle to check your information and/or fill out a citation. The information they are checking is the validity of your registration and driver's license, whether you have warrants and if you are currently insured. The officer is not checking your credit, criminal history or documenting your information in some secret file.
Backup
Another officer may show up to assist. This is normal, as we are taught that some of the most dangerous situations are traffic stops, and that if you hear a fellow officer stop someone that you should head that way to "back" him.
The officer will eventually walk back to your vehicle after what you think had to be a rousing game of solitaire and what feels like an hour and twenty minutes of you staring at your clock. The officer at this time will either send you on your way or hand you a citation and explain the citation to you. Again, you should attempt to be courteous and keep your hands in plain view.
The goodbye
The officer will then walk back to their vehicle and usually wait for you to leave. I thought it best for the person receiving the ticket to leave first as I had my emergency equipment on and it was easier for them to pull into traffic with that equipment activated. I have never pulled over the person leaving for not signaling when they pulled back into traffic or peeled out a little when leaving.
This article is for entertainment purposes only and should not be taken as legal advice. I do not represent and specific agency or government. Please send questions to [askacop@ksl.com](<mailto: askacop@ksl.com>)
×
Related Stories