DUCHESNE — A former police detective accused of illegally accessing a state database to steal painkillers from a Vernal couple has been sentenced to 18 months of court-supervised probation.
Ben Marland Murray entered a no-contest plea Thursday in 8th District Court to unlawful use of controlled substance database information. He also pleaded guilty to possession or use of a controlled substance.
Murray, 37, asked to be sentenced immediately after entering his pleas.
Both charges are third-degree felonies; however, assistant Utah attorney general Scott Reed and defense attorney Loni DeLand asked Judge Douglas Thomas to reduce both counts to class A misdemeanors before passing sentence.
The judge agreed to the attorneys' request. He ordered Murray to serve two concurrent one-year jail terms, then suspended that sentence in favor of court-supervised probation. 
"He has been very contrite. He's made no excuses for his behavior," DeLand said, adding that Murray has completed a substance abuse assessment and remained clean since his arrest.
---
It's fair to say that this was a fairly unusual case; and a tragic case, when you look at the players involved and the unusual nature of the conduct.
–Scott Reed, assistant Utah attorney general
---
Authorities said Murray used the Utah Prescription Drug Database to access private medical information about a Vernal couple, then stole painkillers from the couple during visits to their home that coincided with times when they had refilled their prescriptions.
The man and woman, who claim Murray made at least 30 visits to their home to conduct what he called "pill checks," eventually set up a hidden camera that recorded one of Murray's visits. Their attorney turned the video over to the Utah Attorney General's Office.
Murray was on duty on Aug. 11, 2011, when he was arrested by investigators. He was booked into the Salt Lake County Jail and resigned from the Vernal police force the following day.
"It's fair to say that this was a fairly unusual case," Reed said after court Thursday. "And a tragic case, when you look at the players involved and the unusual nature of the conduct."
The two charges that were ultimately filed against Murray last month — more than 1 ½ years after his arrest — were based on the video from the hidden camera. "That certainly was the best evidence in the case and we could rely on that in filing our charges," Reed said.
The prosecutor said he asked for the felony charges to be reduced before sentencing so that Murray could remain employed with the oilfield service company where he now works. He also defended the lack of any jail time or a fine in the case.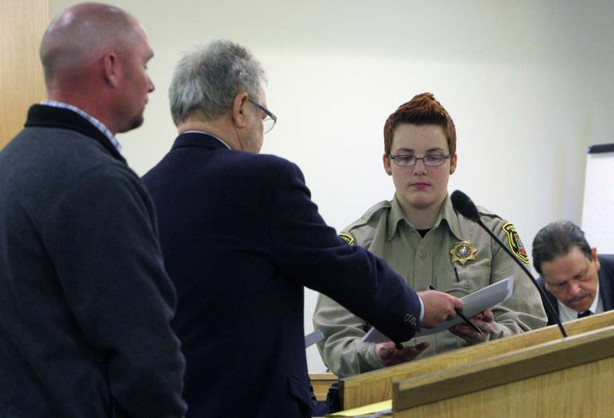 "I think if you look at drug offenses across the state, you will find that on a first offense these kinds of dispositions are very common," he said. "And in that respect, Mr. Murray shouldn't be treated differently than anyone else.
"There are those who would say police officers should be held to a higher standard. I believe that," Reed said, adding that Murray's criminal conduct ended his 12-year law enforcement career and led the state to strip him of his police certification for life.
"That's a pretty severe sanction in and of itself," the prosecutor said. "Most drug offenders don't lose their employment on a first offense or a first conviction."
State law allows a judge to reduce the severity of a charge before sentencing at the request of one or both attorneys. However, several criminal law attorneys contacted Thursday by the Deseret News said it rarely happens.
"It's not something you see very often," said one lawyer, who is not involved in the Murray case and spoke on condition of anonymity.
Even though Murray's criminal case has been resolved, he is still a defendant in a $2 million lawsuit filed by the couple he's accused of targeting for drug thefts. That lawsuit, filed in December in U.S. District Court, also lists the state of Utah and the city of Vernal as defendants.
×
Photos
Related Stories