HOUSTON — One in 70 million. Less likely than being struck by lighting. Less likely than getting in a plane crash. Still, a mother in Texas beat those odds when she conceived two sets of identical twins simultaneously — without the help of fertility drugs.
Tressa Montalvo, 36, delivered the unlikely quadruplets — all boys — on Valentine's Day at a Houston hospital. At ten weeks, doctors heard two heartbeats and told her she had twins. Later, they heard a third. Then a fourth.
"You're sitting there crying and you're not sure why," Montalvo told the Houston Chronicle. "I didn't know if I was excited or afraid. It was just overwhelming."
She delivered by Cesarian section, and named the boys according to the order they came out: Ace, Blaine, Cash and Dylan. Though they were born prematurely, doctors expect them to live normal, healthy lives after a six week hospital stay.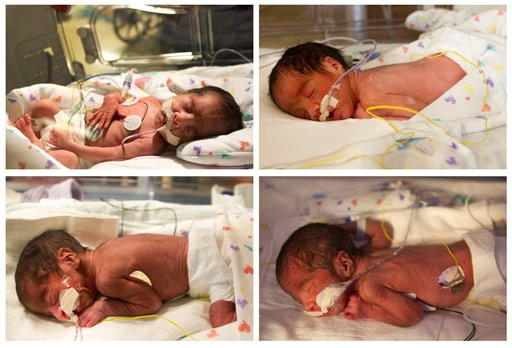 Montalvo said she is glad to have a big family like the one she grew up in, but she didn't expect it to come so quickly. It's something that her extended family is used to; her grandparents will now have 10 grandchildren all under the age of 15, all boys.
Identical twins occur when a single fertilized egg splits into two viable embryos, both sharing a placenta. In this case, two fertilized eggs both split into two viable embryos, for a total of four babies.
The event is near impossible without fertility treatment. Modern drugs and therapies have made multiple births much more likely, increasing the rate by some 76 percent, according to CNN. Two sets of twins has a likelihood of roughly 1 in 10,000 when conceived using fertility drugs. That drops to an insignificant 1 in 70 million by natural conception.
The Montalvos are excited for their children and look forward to raising their family of five, including their 2-year-old son. Still, they understand that the task will be daunting.
"I don't think it will set in until we're all home how difficult it's going to be," Montalvo said.
×
Related Links
Related Stories