CEDAR CITY — A Southern Utah University basketball player has been arrested on investigation of possessing drugs.
According to the Iron County jail records, Wade Collie, 21, was arrested early Sunday morning. Few details surrounding the arrest were immediately available.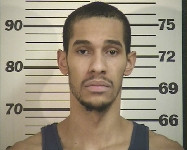 The county booking website indicates that he was being held on suspicion of having drug paraphernalia and of possession a controlled substance with intent to distribute it. Bail for Collie was set at $10,000
Two other SUU athletes have been arrested during the 2012-2013 school year. SUU cornerback Tyree Mills was arrested Sep. 30 for alleged assault. Less than a month later, Cameron Morgan was charged with 10 counts of possessing child pornography on his computer.
More information will be posted as it becomes available.
×