Estimated read time: 3-4 minutes
This archived news story is available only for your personal, non-commercial use. Information in the story may be outdated or superseded by additional information. Reading or replaying the story in its archived form does not constitute a republication of the story.
SALT LAKE CITY — Apple may not be the market leader in laptop sales, but you wouldn't think so based on the products' prominence in popular culture, with Hollywood seemingly having been bitten the hardest by the Apple love bug.
According to data gathered by brandchannel, a company that tracks global branding trends, Apple products appeared in 42.5 percent of all films — 17 out of 40 — that were number one at the U.S. box office in 2011.
Chevrolet, Dell and Ford tied for second place, each appearing in 22.5 percent of top box office films. Coca- Cola, Cadillac and Mercedes-Benz tied for third at 17.5 percent.
Apple products have appeared in more than one-third of the past decade's number-one box office films, according to brandchannel, behind only Ford. The appearances hit their peak in 2009, with products appearing in 20 of 41 number- one films.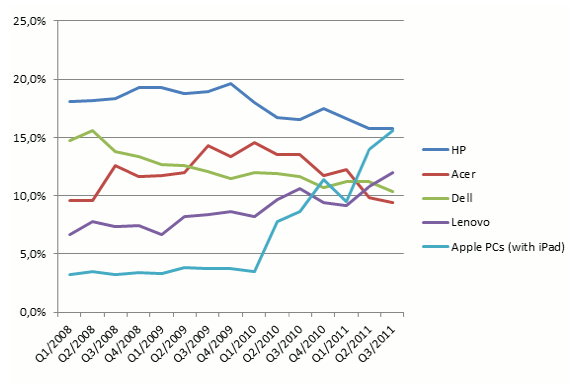 Apple's more than five total minutes of product placement in "Mission Impossible: Ghost Protocol" was worth more than $23.5 million according to an analysis done by Front Row Analytics.
The attention comes as Apple has enjoyed a significant increase in the market share of personal electronics over recent years with the release of the iPhone and iPad.
The iPad, especially, has dramatically increased Apple's presence: the company's share of the market has soared in the nearly two years since the tablet debuted, jumping from less than 5 percent of the market share to more than 15 percent between the first quarter of 2010 and the third quarter of 2011.
If the boost in sales from a strongly performing iPad was not enough to push Apple to the forefront of the product placement queue, the brand allegiance and perceived social clout inspired by the products seems to have done the trick.
A 2011 study by the research firm Gfk found that 84 percent of iPhone users would choose an iPhone again, compared to 60 percent of Android users and 48 percent of BlackBerry users. Additionally, the study found that companies that offer customers a greater amount of services are more likely to inspire brand loyalty — something Apple has done with both hardware, like the MacBook and iPod, and software, as with iTunes and iCloud.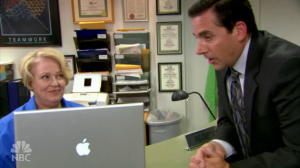 With Apple, part of that is involuntary, of course. The iTunes store is the only place consumers can purchase music and movies for their i-gadgets to guarantee the products' usability. And it was only recently within the company's history that a wide variety of programs that were once only available for Windows-based devices were made available for devices running iOS or OS X.
But Apple products' widespread presence in American cinema points to a deeper penetration by the company into American pop culture, as the products have become immediately recognizable at a glance and with Hollywood more and more often choosing to include Apple products in films that may already have contracts with other companies. In one such instance, the 2010 film "Sex and the City 2" featured a MacBook and an iPhone, despite a deal with Hewlett-Packard to feature HP PCs in the movie.
The appearance of Apple products in box office hits is sure to benefit the company as product placement becomes an ever more important advertising method. A 2009 study found two-thirds of TV viewers skip advertisements, whether by cutting the sound, switching to a different channel or fast-forwarding through commercials altogether.
Apple remains mute on the topic, but has said in the past it does not pay for product placement. A spokesperson did not immediately respond to requests for comment.
×
Related links
Related stories