Estimated read time: 1-2 minutes
This archived news story is available only for your personal, non-commercial use. Information in the story may be outdated or superseded by additional information. Reading or replaying the story in its archived form does not constitute a republication of the story.
John Hollenhorst reportingThe city manager of Monticello has been relieved of his duties and apparently locked out of city offices pending an audit of the town's financial records.
So far there is no criminal investigation, and Mayor Doug Allen says, as of today, they've found no evidence of criminal wrongdoing. But Monticello officials have called for an outside audit of the city's books.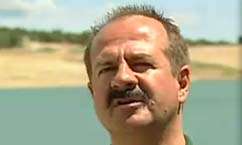 City officials have confirmed that long-time City Manager Trent Schafer has been placed on administrative leave. Eyewitness News heard that locks and passwords at city hall were changed to keep Schafer out; the mayor would not comment on that.
The shakeup in Monticello apparently occurred last week following an emergency meeting of the city council.
Monticello is a town of about 3,000. It's the county seat of San Juan County.
Mayor Allen confirmed they've asked state auditors to come in and examine the city's financial records. He won't say what triggered the probe but acknowledged that embezzlement is one possibility being looked at.
"We have not been able to substantiate it," the mayor told us. "It may be as simple as being behind on paying bills. The question was why some [of the city's] bills weren't paid. We have no indication of any criminal activity."
The mayor also told us he's unaware of any money missing from city accounts.
Eyewitness News reached Trent Schafer by phone. He told us he's "pretty distraught" but will have no further comment.
×
Most recent Utah stories