Estimated read time: 4-5 minutes
This archived news story is available only for your personal, non-commercial use. Information in the story may be outdated or superseded by additional information. Reading or replaying the story in its archived form does not constitute a republication of the story.
Debbie Dujanovic reporting
Produced by Kelly JustSALT LAKE CITY -- For less than $70, the safes promise you some peace of mind, and it seems more and more Utahns are buying them. Most come with a claim of being fireproof, waterproof or both. KSL 5 News decided to put them to the test and see if these safes are worth the investment.
You've seen the video over and over this soggy spring and summer: floods wreaking havoc across Utah.
A Smithfield resident told KSL 5, "I didn't know there could be that much water that could come into my house."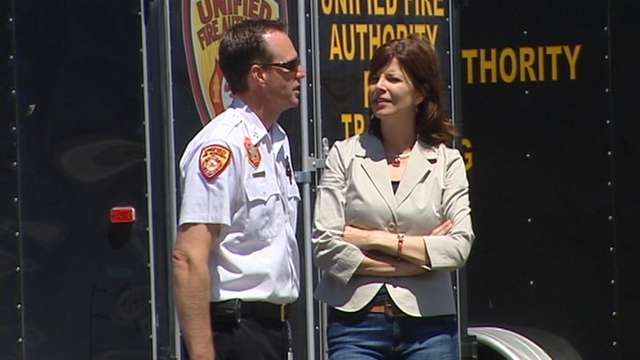 In Herriman, one resident said "I mean it filled up my basement like that."
Another talked about what had been lost. "This is all our childhood memories. This is everything," the woman said.
And in Grantsville, one resident described what happened at her home. "Just poured in the door," she said. "Just couldn't stop it."
It is true. There may be no way to stop a disaster like this, but can you protect yourself in case the worst happens? The marketing director for Utah Disaster Kleenup, Eric Fairbanks, says absolutely.
"The preparation isn't much, but the preparation goes a long way," Fairbanks said.
Utah Disaster Kleenup deals with messes left behind by water and fire. The company recommends homeowners store certain valuables in portable home safes.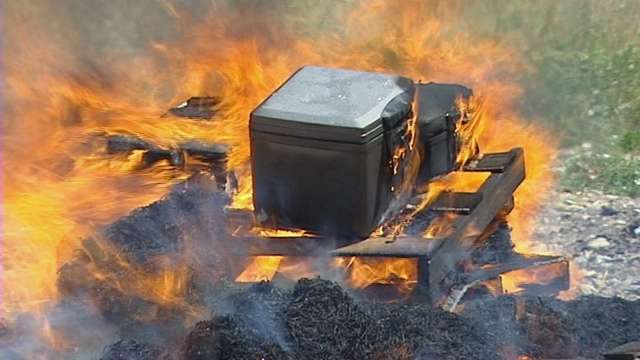 "We're talking anywhere from photos and family memories all the way to social security cards, birth certificates, death certificates; all types," Fairbanks said.
The safes are growing in popularity and seem to be somewhat affordable. KSL 5 bought four of them at various local retail stores. They cost between $25 and $70.
Three of the safes claimed to be waterproof and fireproof; one is just fireproof. The Unified Fire Authority agreed to test the safes at its fire training center in Magna to find out if they live up to those claims.
"It will be interesting to find out if they pass the test or not," said UFA Capt. Clint Smith.
Inside each safe we put papers, photos of the KSL 5 news team, a CD and a video tape to see if they would survive. The firefighters then placed the safes on wood pallets, packed in bales of hay and added an accelerant.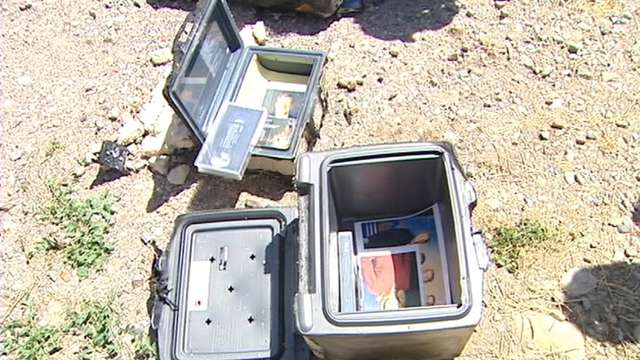 In a matter of seconds, fire engulfed all four safes. After a few moments, the plastic handles and locks melted right off; firefighters calculated the fire's temperature at 1,200 degrees.

After five minutes, Smith gave the order to douse the blaze, and firefighters blasted a hose directly at the safes and drowned them in a wall of water until they were cool enough to touch.

Right away, there is a problem: no key could unlock these melted messes. It took a crow bar and even a bit of sawing to get back into them. But once they are open, Smith reacted.

"I think that they held up remarkably well," he said.

First, there were the three supposedly fireproof and waterproof safes to check on; all did live up to those claims. There was no damage to the papers, photos, CDs or video tapes. Inside the safes, no sign of the test they were put through.

Reporter, Debbie Dujanovic asked Smith, "Are you surprised that all of them held up as well as they did?"

**Safes tested by KSL:**

1. Honeywell Waterproof Fire-Resistant Security Chest Model 2013

$29.99 at Best Buy

2. Sentry Firesafe Waterproof Chest, 40 Lb., 0.36 Cu Ft.

$68.89 at Office Depot

3. Sentry Firesafe Waterproof Security File

$59.99 at Sears

4. Sentry 0.18 Cu. Ft. Firesafe Chest (not waterproof)

$24.99 at Sears

Does include a bolt kit

"I don't want to say that I am," Smith replied. "but I am quite frankly a little surprised that they held up as well as they did." The safe that claims to be fireproof only actually stopped both flames and water. We did, however, discover a bit of scorching on a picture and some papers. Smith believes had the flames kept going that particular safe might not have survived.

After seeing our test firsthand, some of those firefighters plan to now buy one of these safes.

The firefighters say the best place to store one is in the basement because fire rises. And if you're worried about a burglar being able to carry away such a light portable safe, you can buy one with a kit to bolt it into the floor; one of the safes we purchased came with that feature.

E-mail: iteam@ksl.com

×
Related links
Most recent Utah stories