Estimated read time: 3-4 minutes
This archived news story is available only for your personal, non-commercial use. Information in the story may be outdated or superseded by additional information. Reading or replaying the story in its archived form does not constitute a republication of the story.
PROVO -- A Utah couple recovering from injuries in a fiery plane crash will celebrate this year's holiday season in a special way. Since that tragic accident, this will be the first Thanksgiving and Christmas they and their children will celebrate together.
By now, Stephanie and Christian Nielson are familiar names. Stephanie's well-known "The Nie Nie Dialogues" blog site is widely read throughout the country. The story of how they're turning their lives around is nothing short of amazing.
In August of 2008, the husband and wife were severely burned when the light plane they were in crashed near St. Johns, Ariz.
"The noise was frightening enough, but to realize that you actually were on fire was just, I mean, panic," Stephanie says.
She was in a coma, not expected to live, with burns over 80 percent of her body.
"I think the most difficult thing is not really recognizing myself when I look in the mirror," she says.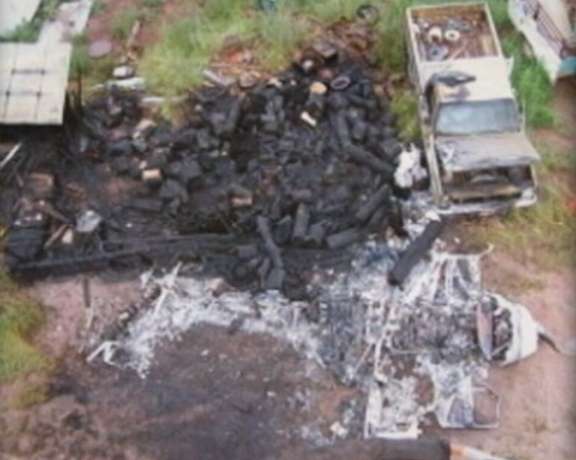 But with a year's worth of physical and psychological healing behind them, the Nielsons now look forward to the seasonal holidays the family will share together in their own home for the first time since that accident.
"I've sort of been able to push out those awful feelings that I've had about the accident and get back into my life and my children," Stephanie says.
Under the surface, that charming, beautiful mother and wife is still there. Though it's difficult at first, it doesn't take long to look past the scars. Stephanie says it was very difficult when the bandages came off.
"The children not wanting to love me or letting me hold them. But [then] it was like magic. One day it just changed, and no big deal. That's when they realized that mom is mom. That's who we love," Stephanie says.
The emotional wounds are healing, but physically there's still pain. The skin is tight and inflexible, and Stephanie works hard to keep her body moving.
Early next year, she'll go to Maricopa Medical Center in Phoenix to have her neck literally rebuilt. This is a unique procedure where a frame will stretch skin, tissue and vessels on her back to be later transplanted to the neck. The technique, though rare, is impressive and works 9 out of 10 times on burn patients, but this is only the beginning.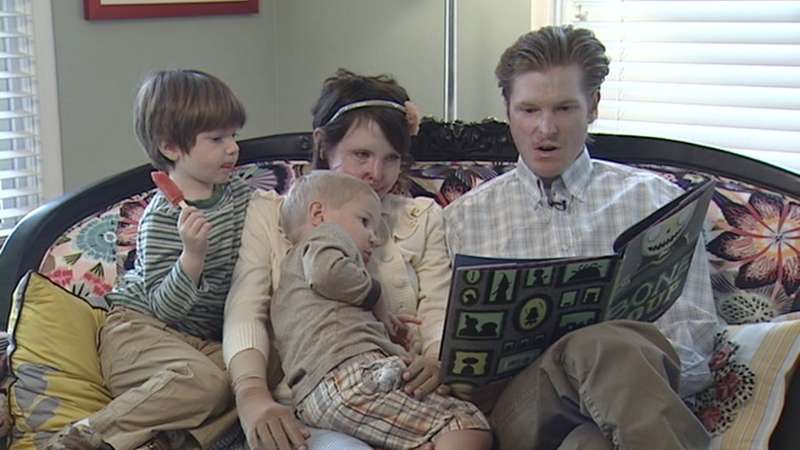 "Surgery is something that will be a part of our life for a long, long time," Christian says.
In addition to his own burns, Christian suffered a compression break in his back when the plane crashed.
Despite the damage, both Christian and Stephanie are determined to savor life, to keep loving and laughing together -- as their family, friends, even strangers have done in supporting them through this whole ordeal.
"We pull on each other when needed. We rely on each other's strength, knowing that we share the same pain and scars. We want to engage in life again and do all the things we did before," Christian says.
Bike riding, watching a BYU homecoming parade, reading stories to their kids, spending time with family and friends, and more; Stephanie and Christian say they have a lot to live for.
It's hard to find words, Christian says, to say thanks to the hundreds of people here and around the country who prayed for Stephanie's recovery, who gave her encouragement to keep going despite the odds.
Life is just beginning, they say. In fact, Stephanie wants to have another baby. "My goal," she says, "to get well enough so that we can keep having children."
Through these past 15 months since that plane crash, Stephanie and Christian's blog has become one of the most popular and moving to read. CLICK HERE if you would like to read it.
E-mail: eyeates@ksl.com
×
Photos
Related links
Related stories
Most recent News stories