Estimated read time: 3-4 minutes
This archived news story is available only for your personal, non-commercial use. Information in the story may be outdated or superseded by additional information. Reading or replaying the story in its archived form does not constitute a republication of the story.
SANDY -- The Great Recession caught up with another Utah-based business Monday. Kiddie Kandids filed for bankruptcy and shut down nearly 200 photography studios in malls nationwide.
Employees of the photography business, which is based in Sandy, heard whispering about the closing during the weekend, and got the confirmation they feared Monday morning.
---
Effective immediately, Kiddie Kandids must completely cease operations and relieve all employees of their positions with the company.
–Dale Merrill, President of Kiddie Kandids
---
"Yesterday was a perfectly normal day, business as usual," said Kristen Turner, a Kiddie Kandids studio manager. She had even received a promotion in recent weeks. Now, she's filing for unemployment.

"I'm the sole breadwinner in the family 'cause my husband has been unemployed for a while," Turner said.

Now, she's fighting for survival, along with hundreds of other company employees across the country.

"We have four children," Turner said, "and we're doing everything we can just to hang on."

Kiddie Kandids started off in a mall kiosk in 1974. It grew to 184 studios in malls across the country that specialized in portraits of babies and children. Now all studios are locked up, and employees are locked out.

**What is … Chapter 7 Bankruptcy?**

Some companies are so far in debt or have other problems so serious that they can't continue their business operations. They are likely to "liquidate" and file under Chapter 7. Their assets are sold for cash by a court appointed trustee. Administrative and legal expenses are paid first, and the remainder goes to creditors.*- [Securities and Exchange Commission ](http://www.sec.gov/investor/pubs/bankrupt.htm)*

On the company website Monday night, a statement: "We have exhausted all possible avenues for funding and have come to the end of the road." At corporate headquarters in Sandy, no one would talk to KSL News. But we did get a fax citing "negative growth" and the "economic climate" as the reasons for bankruptcy.

Employees nationwide got an e-mail. They were told the company was filing for bankruptcy and employees would not get upcoming or past paychecks.

Kiddie Kandids'Facebook page filled with postings from upset former employees and paying customers who want to know if they will get their pictures.

"I think there's a lot of customers that are going to be quite affected and upset by this," Turner said.

A local professional photographer says the industry is slumping; everyone has cameras and tastes have changed.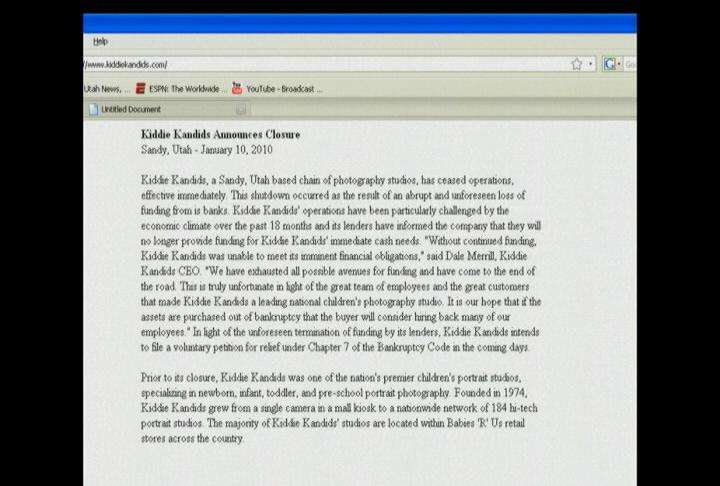 "Parents are looking to capture more personality in their kids and their families. I think standing in front of a backdrop doesn't get that for you," photographer Brody Dezember said.
Principal investor Sorensen Capital said in a statement Monday it is "deeply saddened by the sudden closure of Kiddie Kandids." It further states: "Sorenson Capital received no profits from Kiddie Kandids and lost its entire multi-million dollar investment in the company."
But another studio in Salt Lake City is offering a free photo shoot to clients who had unfinished work at Kiddie Kandids. Studio 1 Photography may also have jobs for some employees who lost work. [CLICK HERE for more details]
Fotogenix Portrait Studios has also indicated they are willing to accept all gift certificates and promotions in which Kiddie Kandid customers were unable to redeem. They have three studio locations: Orem, Sandy and Syracuse.
Val Westover Photography has made a similar offer and will honor any portrait session coupon from Kiddie Kandids.
As for Kristen Turner, she has new work to do. "Pound the pavement, find another job," she said.
------
Story compiled with contributions from Jed Boal and Amanda Butterfield.
×
Related links
Most recent Utah stories