Estimated read time: 5-6 minutes
This archived news story is available only for your personal, non-commercial use. Information in the story may be outdated or superseded by additional information. Reading or replaying the story in its archived form does not constitute a republication of the story.
MIDVALE — Three people are dead, and a fourth hospitalized, following a shooting in Midvale Tuesday morning. By evening, the two people investigators had called "persons of interest" had become suspects in the case, and they were still on the run.
"We are now calling David Fresques a suspect in this homicide, along with a second adult male," Unified Police Lt. Justin Hoyal said in an afternoon press conference.
Fresques, 25, and the second man are wanted for questioning in connection with the triple homicide, which happened inside what police described as a "known narcotics house."
Police discover bodies following 911 call
Unified police were called to 8286 Adams St. (450 West) just after 8 a.m. The call came from inside the house, either while the shooting was still happening or immediately after, Hoyal said.
"When (police officers) got here, they found three victims confirmed deceased at this residence. One was transported to the hospital, also having received wounds from a shooting as well," he said.
---
When (police officers) got here, they found three victims confirmed deceased at this residence. One was transported to the hospital, also having received wounds from a shooting as well.
–Lt. Justin Hoyal, UPD
---
The names and ages of the victims were not immediately released. Hoyal said the person sent to the hospital in critical condition is an adult woman. The three slain victims are adults.
Police initially named Fresques as a person of interest and said they were also looking for a second man. Both were suspected of being at the house earlier in the day. Hoyal did not have a description of the second man, but based on interviews with witnesses and neighbors, detectives believe two men may have been present.
Fresques is a documented gang member. But Hoyal said it was unknown Tuesday whether the shooting was gang-related, drug-related or something else. He noted, however, that police had been at the house where the shootings occurred about a month ago as part of an "ongoing narcotics investigation."
"Our SWAT team served a search warrant at this home not too long ago for a narcotics investigation. We do know it's a known narcotics house," he said.
At least one neighbor said there was frequent short-term traffic at the house consistently.
Sighting of suspect vehicle leads to motel search
Around 10 a.m., the car believed to belong to Fresques was found at a Motel 6 parking lot in Midvale, 7263 S. Catalpa Road. Fresques, however, was nowhere to be found.
Members of the Unified police SWAT team went room-to-room at the motel searching for Fresques, but there was no evidence he was there.
According to one motel guest, she, her cousin, and four young children were kept in their room from 10 a.m. until 3 p.m. on lockdown. Rooms on either side of them were evacuated.
"With all the police and stuff, I feel safe with that," motel guest Lisa Madina said. "But with the shooting, the kids are terrified and I don't feel safe with that. We feel very scared."
Hoyal said it was unknown whether Fresques walked away from the parking lot after ditching his car or if someone else picked him up.
Search prompts school lockdowns
Meanwhile, dozens of heavily armed officers, along with bloodhounds, went door-to-door in the neighborhood surrounding the shooting scene looking for the Fresques and the second man. Fresques is described as Hispanic, bald, 5 feet 8 inches tall, weighing 180 pounds.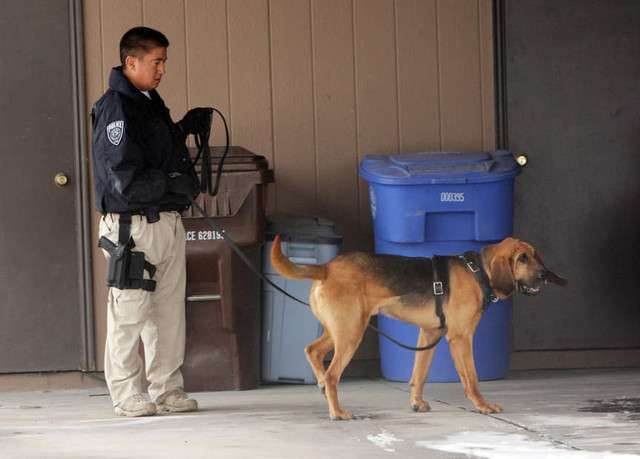 Seven schools in the area — Midvale Middle School, Midvale Elementary, Sandy Elementary, Midvalley Elementary, Jordan Valley Elementary, Copperview Elementary and East Sandy Elementary — were temporarily put in lockdown as a precaution and officers were also dispatched to each school building. The lockdowns were lifted about 10:15 a.m. but officers remained at each school for the remainder of the day as a precaution.
"We feel like right now the possibility of the suspects going to the school — the children are safe and we don't need the lockdown in place," Hoyal said, adding that the lockdowns were for precaution and there was "no inherent threat to the schools."
"It's important to know that the children are safe right now," said Canyons School District spokesman Jennifer Toomer-Cook, who asked that parents not try to come pick up their students at the schools.
Still, parents and children were worried about the lockdown.
"I didn't even make it to the front door," Susana Vakalahi said. Her daughter attends Midvalley Elementary School. She was taking her backpack to the school. "An officer just came out and reached out and said, 'I'll take that from you,' but I recognized the secretary from the office. She said, 'I'll get it to your daughter.'"
Investigation continues
Tuesday evening, investigators were also working on obtaining a search warrant to thoroughly go through the house where the shootings occurred. Fresques' vehicle was also being towed back to a police evidence garage where a second warrant was expected to be obtained before investigators went through it.
Hoyal did not know who owned the home or if the victims lived there.
According to Utah state court records, two renters of the house were currently in the process of being evicted. New filings were processed in court a couple of days ago.
Person of Interest

David Fresques
Hispanic male 25 years old 5 feet 8 inches tall Medium build, 180 pounds Seen driving a white Nissan Maxima Police urge the public not to approach him, as he could be dangerous. Anyone with information can call 801-743-7000.
Jose C. Velazquez, the owner of the property, filed an eviction notice against Jose Fernando Garcia and Esther Arredondo. In his court filings, Velazquez claimed the occupants were behind on rent, caused significant damage, had added roommates without permission, built two extra rooms in the backyard in addition to "trashing" the backyard, and the city of Midvale had sent him violation notices about storage in the front yard.
In their counterclaim, Garcia and Arredondo said the damage to the property was caused by police "when they served a search warrant in which Jose is being wrongfully accused of," according to court records.
According to Utah state court records, Fresques was sentenced to one to 15 years at the Utah State Prison in 2007 for robbery and simple assault. Most recently, he was charged with disorderly conduct and public intoxication in September. At that time, the court listed his address as a Main Street residence in Midvale, not far from the shooting scene.
Fresques' criminal record also includes convictions for forgery in 2011 in which he was sentenced to one year in jail; forgery and a weapons violation in 2007; criminal trespassing on school property and possession of drug paraphernalia in another 2007 case in which he was sentenced to six months in jail; illegally carrying a concealed weapon in 2006; and disorderly conduct, also in 2006.
Contributing: Marc Giauque and Sandra Yi
Video contribution: Shara Park
---
×
Photos
Most recent Utah stories