SALT LAKE CITY — A Utah toddler who was born with a life-threatening heart defect recently met the person who helped give him a second chance at life.
On December 31, 2012, the Bowers family of Lehi went to California to meet up with Troy DeJoode, the man 2-year-old Landen Bowers owes his life to.
DeJoode, who lives in Iowa, was in Pasadena, Calif., to participate in the annual Rose Bowl Parade on New Year's Day. He had come to represent his home state on the Donate Life float.
In May 2010, DeJoode lost his 5-year-old son, Carson, and 5-month-old daughter Claire in a car crash. His wife suffered lasting injuries, and their other son, Chase, was left an only child.
---
I would encourage you to never feel guilty for receiving our daughter's gift. ...We hope that (Landen) will use it to the fullest that he can for as long as he can.
–Letter from Troy DeJoode
---
When confronted with a decision no parent should have to make, DeJoode and his wife generously donated the organs of their young children to other toddlers in need.
"It was not an easy decision," DeJoode said, "but I came to realize that this was (Carson's) chance, in death, to be the hero that in life he knew himself to be."
Landen, who was just 3 months old at the time, received Claire's heart. His own heart had been failing due to an aggressive form of cardiomyopathy. His reception of the tiny girl's heart was first incompatible heart transplant at Primary Children's Medical Center.
In a letter to the Bower family, DeJoode wrote, "I would encourage you to never feel guilty for receiving our daughter's gift. It comes with no strings attached. "Lion" (Landen) needed only to ask for it. We hope that he will use it to the fullest that he can for as long as he can. We ask only that he use it to the best of his ability."
Nearly three years later in California, as Landen ran to embrace DeJoode, whom he calls his "Heart Dada," the strong bond between the two strangers was obvious. For the first time, DeJoode got to see the miracle he had been instrumental in creating.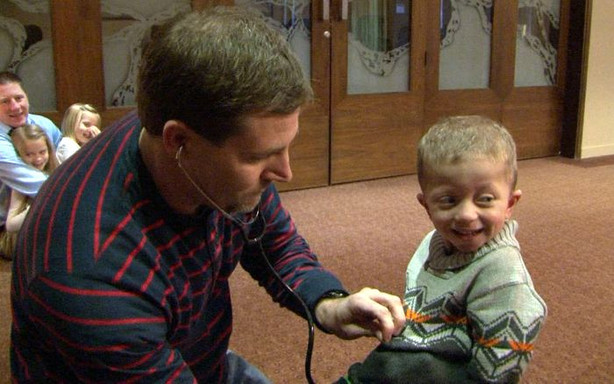 Perhaps the most special moment during their meeting was one words cannot describe: a heart reunited. As DeJoode placed a stethoscope into his ears and over Landen's heart, he was able to listen to his daughter's heart beat again.
Tammy Bower, Landen's mother, was equally touched by the meeting. "My family has been able to see our baby boy grow into a toddler. "We're able to see his first steps, hear his first words, and see him smile," she said.
When Landen underwent his transplant surgery, the DeJoodes not only gave him the life-saving gift of a new heart, but they also sent a little stuffed lamb that had been in Claire's hospital bed.
As Landen laid in his hospital bed, he too had a stuffed animal — a little lion, which is also his nickname. The little pair — the Lamb and the Lion remain with Landen today.
During their meeting, Landen also gave his "Heart Dada" and "Heart Mom" a gift: a statue of a lion for DeJoode, and a heart necklace for his wife. The pendant on the necklace was engraved with the words: "And the Lion Fell in Love with the Lamb."
The bond between the "little lion" and the "little lamb" has come to symbolize love, charity and strength for both families. They said they plan to stay in contact with one another in the future.
Meanwhile, the Bower family remains extremely grateful for "each and every day we have our sweet little boy," Tammy Bower said. "We're reminded each day of his beautiful gift when we get to listen to his heart — Claire's heart."
Contributing: Jordan Ormond
×
Photos
Related Stories