Estimated read time: 3-4 minutes
This archived news story is available only for your personal, non-commercial use. Information in the story may be outdated or superseded by additional information. Reading or replaying the story in its archived form does not constitute a republication of the story.
SALT LAKE CITY — The House Judiciary Committee Wednesday evening unanimously passed a bill that would better protect people from violence in a dating relationship.
"This is awesome," said Jon Bambrough, whose daughter survived a brutal attack from her boyfriend 19 months ago. "It's been a long time coming and I was glad to see it went the way it did."
The Dating Violence Protection Act, also known as HB50, would enable a victim of dating violence to get a restraining order against his or her abuser. The bill closes a gap in the code that makes it difficult for individuals who are not living together or married to get a protective order in an abusive relationship.
Under the proposed law, individuals who have dated a person only once and were attacked or threatened with violence can petition the court for a restraining order. This is the ninth year supporters have presented this bill, and victims like Jon Bambrough's daughter think it about time.
AshLee Bambrough's boyfriend beat her up and threw her out of a truck at 65 mph in July 2011. "My skull was cracked, caved in," she said in a Dec. 2011 interview with KSL News.
---
It's been a long time coming, and I was glad to see it went the way it did.
–Jon Bambrough, abuse victim's father
---
Had they not lived together briefly, she would not have been able to get a restraining order against her boyfriend.
Her father spent a week with her in the hospital as she recovered from the cracked skull, a broken hand and multiple abrasions from head to toe. He testified Wednesday in front of the House Judiciary Committee.
Jon Bambrough told lawmakers victims in dating relationships need the same legal protection as spouses and cohabitants.
"If this would have happened on their first date, or their 10th date, or their 100th date (AshLee wouldn't have been able to get a restraining order)," Jon Bambrough said. "There's just a gap in the law there."
In 2011, Jon and AshLee Bambrough started the Team AshLee Facebook page, targeting domestic violence. At that time, AshLee had been out of the hospital for six months.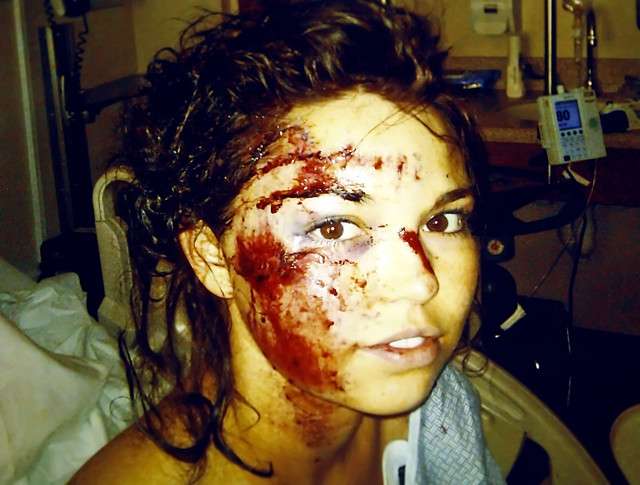 "If we do this, then we can raise awareness about how common domestic violence is," she said in that interview.
According to the 2007 Rape in Utah Survey, more than 15 percent of rapes and 18 percent of attempted rapes are committed by boyfriends or ex-boyfriends. HB50's sponsor, House Minority Leader Jennifer Seelig, said victims of that kind of violence deserve legal protection.
"There have been deaths related to dating violence," Seelig said. "I think that we need to be realistic about what can happen so that people can protect themselves."
In survey of University of Utah students, 22 percent reported physical violence in dating relationships in the last 12 months. In addition, the survey showed 36 percent of students reported jealous controlling behavior, and 47 percent reported emotional abuse.
"I believe that there's a growing recognition in society about violence of a sexual nature and assaults," Seelig said.
HB50 protects individuals who are emancipated or 18 years of age. Under its directive, a violation of a dating violence protection order would be a class B misdemeanor. The order remains in place for 180 days and then automatically expires.
The bill is now headed to the full House for a vote, which will likely take place sometime next week.
×
Photos
Related links
Related stories
Most recent Utah stories