Estimated read time: 2-3 minutes
This archived news story is available only for your personal, non-commercial use. Information in the story may be outdated or superseded by additional information. Reading or replaying the story in its archived form does not constitute a republication of the story.
SALT LAKE CITY — Utah's arts organizations and students converged at the Capitol Tuesday to thank legislators for their support of the arts and to remind them of the importance of arts funding, including programs for Utah's schools.
The Capitol rotunda resonated with the musical talents of David Horton. A student with the Gifted Music School, he performed for legislators as a reminder of what arts funding can do.
During the past six years, annual funding for arts in education has been between $2.5 million and just more than $3 million, dropping during the recession and reaching the $3 million threshold again last year.
Those representing the arts went to the Capitol to lobby for more funding in 2013.
"We're particularly struck by the loss of arts education in our public schools, and it's an important issue for us," said Margaret Hunter of the Utah Arts Council. "Our constituents have told us it's their number one concern."
Susan Sandack, with the Repertory Dance Theatre, and Clive Romney, representing Utah Arts Council Folk Arts, went to the hill with success stories like the Native American program in the Nebo School District to the attention of lawmakers.
"Folk arts, storytelling, the dance of their culture, etc. has increased graduation rates from 50 percent to 95 percent," Romney said. "That's what the arts can do."
The arts also provide an economic boost to the state, the artists noted.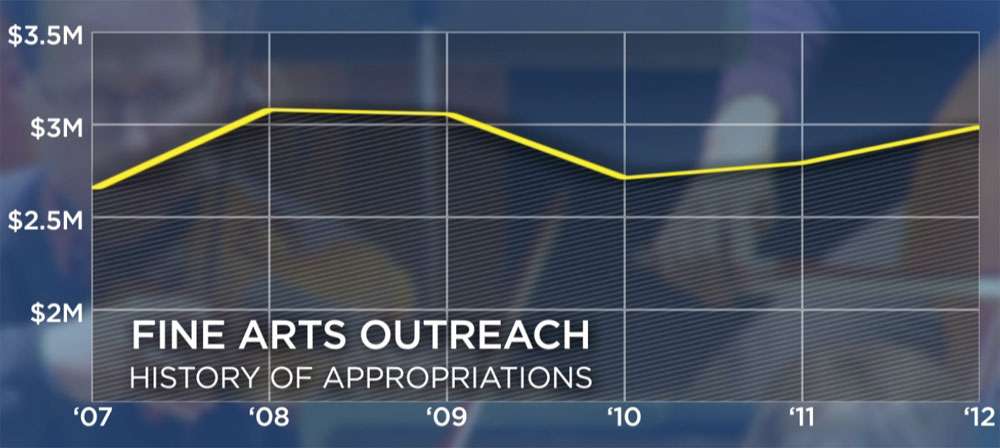 "The arts are such a critical part of our state, both for the education of our students, for the enjoyment of the public, brings in so much money in terms of tourism dollar, so many aspects, it's great to have people up here to explain it to legislators," Sandack said.
Organizations like the Utah Shakespeare Festival, the Utah Symphony, Ballet West and the Repertory Dance Theatre perform all across the state.
"It's important that these children continue to have arts in their lives," founder of the Utah Shakespeare Festival Fred Adams said. "And it doesn't go into their lives unless we put it into their schools."
Karen Horne set up her easel creating a portrait with pastels and a live model in the rotunda. She is the great-great-granddaughter of Alice Merrill Horne who became a member of Utah's Legislature in 1898. Her bill led to the creation of a state art institute and art collection. "She ran for the state Legislature specifically to push an arts agenda," Karen Horne said.
Contributing: Viviane Vo-Duc
×
Photos
Related stories
Most recent Utah stories