This archived news story is available only for your personal, non-commercial use. Information in the story may be outdated or superseded by additional information. Reading or replaying the story in its archived form does not constitute a republication of the story.
SALT LAKE CITY — That weatherperson you see on the nightly news — pointing to a disturbance here, a cold front there — has an incredibly hard job. They have to take one of the most complex systems in the universe, mater it, and then tell you whether you should avoid driving or take an umbrella with you.
If they're even a little wrong, thousands of people will be upset, maybe way too upset. If you're St. Louis weatherman Chris Higgins, you might even feel like calling out all the "haters" on Facebook.
Fear not, Higgins, and meteorologists everywhere. Tuesday is National Weatherperson's Day, and one BYU professor has a gift that could help make your life a little easier.
Julie Crockett studies atmospheric internal waves, a phenomenon which can have a huge effect on the weather. Everyone has seen waves on the surface of water. Air and water meet, and because of their radically different densities, waves tend to form.
But waves don't only form where high density and low density fluids come together. They can also form where there's a smooth transition from one density to another. Like in the sky, or deep in the ocean. If you disturb that smoothness internally, a wave will form. Hence, internal waves, as opposed to surface waves.
"Anytime you disturb this nice stable stratification, you're gonna generate these waves," Crockett said. "The same way if you throw a pebble into a pond. Any time you disturb the surface, you generate waves. It's the same thing inside the atmosphere."
You can even see these waves: When you see clouds that look lined up across the sky, that's essentially the crests of internal waves. You can also feel them in the form of sometimes terrifying turbulence on a plane ride, slipping through the atmosphere at 30,000 feet.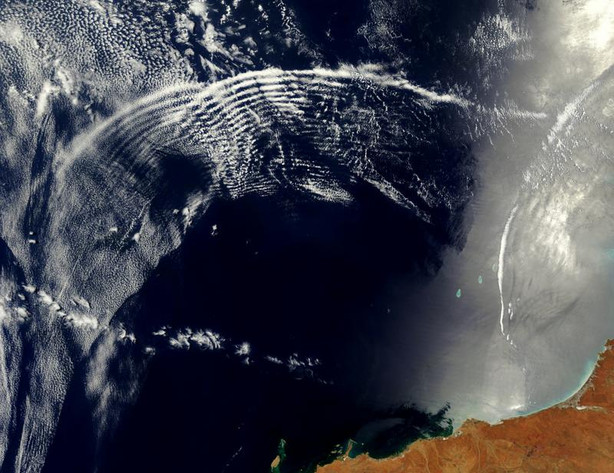 Though they are often hundreds of kilometers long and thousands of feet high, even small internal waves have a big impact on the weather.
"These little waves can make or break snow amount forecasting in the wintertime," said KSL meteorologist Grant Weyman. "They could be responsible for dumping more snow in one particular area, or for lessening the impact of a storm."
One might think that when a little wave hits a bigger one, the little wave would give its energy to the larger one thereby contributing to more extreme weather.
Crockett, however, found that when they meet up, little waves actually tend not to give up their energy, and it may just dissipate away into the upper atmosphere or into winds high above.
"We wouldn't expect, maybe, enhancement of really large scale motion at lower altitudes," she said. "We would expect these waves to go higher."
Crockett and her team studied these waves by creating artificial waves in a tank, and using computer modeling to study how they work and their interactions.
Crockett's new understanding will hopefully contribute to better models for predicting the weather.
"All of our model data is based on imaginary grids," Weyman said. "Just like a TV, a higher resolution grid is going to give you more accuracy than a low res grid."
A better understanding of wave-wave interaction could help increase that resolution. And on National Weatherperson's Day, what meteorologist wouldn't want that?
×
Photos
Related Links
Related Stories