Estimated read time: 4-5 minutes
This archived news story is available only for your personal, non-commercial use. Information in the story may be outdated or superseded by additional information. Reading or replaying the story in its archived form does not constitute a republication of the story.
IRVING, Texas (AP) - Caught in an ideological crossfire, the Boy Scouts of America is delaying until May a vote on whether to ease its policy of excluding gays as Scouts and adult leaders. Any eventual decision is likely to anger major constituencies and worsen schisms within Scouting.
The delay, which the Scouts attributed to "the complexity of this issue," was announced Wednesday after closed-door deliberations by the BSA's national executive board. Under consideration was a proposal to ease the longstanding ban on gays by allowing sponsors of local troops to decide for themselves on gay membership.
"After careful consideration and extensive dialogue within the Scouting family, along with comments from those outside the organization, the volunteer officers of the Boy Scouts of America's National Executive Board concluded that due to the complexity of this issue, the organization needs time for a more deliberate review of its membership policy," Deron Smith, the BSA director of public relations, said in a statement.
As the board met over three days at a hotel near Dallas, it became clear that the proposal would be unacceptable to large numbers of impassioned Scouting families and advocacy groups on both the left and right.
Smith said the organization's national executive board will prepare a resolution for the 1,400 voting members of the national council to consider. The annual meeting will take place in May, 2013, in Grapevine, Texas.
Many scouts in Utah were caught off-guard last week when they learned the BSA was considering allowing openly gay leaders to participate. Kay Godfrey, a spokesman for the Great Salt Lake Council of the Boy Scouts of America, said the delay will allow discussion on the topic.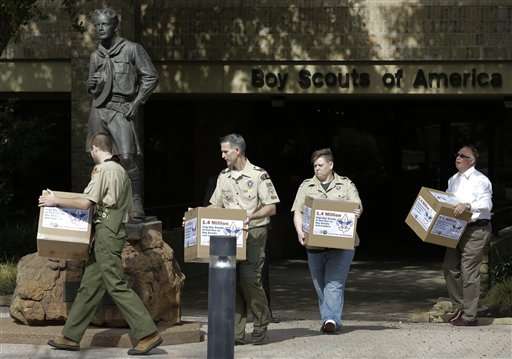 "We're certainly encouraged by our national executive board — their decision to delay the vote," Godfrey said on KSL's Mornings with Grant and Amanda. "We actually hope that we'll now have a forum of some sort so we can better understand what's taken place these last few days, and perhaps an invitation to engage in a discussion on this issue in the future. That's what we want."
"We hope that some sort of committee opportunity might be available to us. One way or the other, having delayed this decision at least gives some time for more open dialogue."
Michael Purdy, spokesman for The Church of Jesus Christ of Latter-day Saints, says the organization "acted wisely in delaying its decision until all voices can be heard on this important moral issue."
The church will continue to closely monitor the proposed policy change, Purdy said.
The Great Salt Lake Council — one of the largest in the country with 5,500 troops and 73,400 youth members — had joined 32 other councils in writing a letter urging the national organization to delay the decision.
"We want to make sure we sit down with them and understand their perspectives and what they need in order to run a good scouting program, and then we will do what we need to support them," said John Gailey of the Utah National Parks Council.
In Utah, nearly all scouting troops are sponsored by the Mormon church, which teaches that marriage is between a man and a woman, and same-sex relationships are sinful.
---
You're going to get folks who withdraw their support one way or the other. But scouting will survive these things.
–Kay Godfrey, Great Salt Lake Council, BSA
---
Nationally, the Mormon church has more Boy Scouts than any other denomination, with 37,000 troops and 420,000 youth members, according to figures from the Boy Scouts of America.
The Scouts have faced growing pressure in recent years to end the ban on gays in Scouting, from those who believe it is discrimination, including President Obama, who believes it is time for the ban to end.
"My attitude is that gays and lesbians should have access and opportunity the same way everybody else does in every institution and walk of life," said Obama, who as U.S. president is the honorary president of BSA, in a Sunday interview with CBS.
The board faces several choices, none of which is likely to quell controversy. Standing pat would go against the public wishes of two high-profile board members _ Ernst & Young CEO James Turley and AT&T Inc. CEO Randall Stephenson _ who run companies with nondiscrimination policies and have said they would work from within to change the Scouts' policy.
Conservatives have warned of mass defections if Scouting allows gay membership to be determined by troops. Local and regional leaders, as well as the leadership of churches that sponsor troops, would be forced to consider their own policies. And policy opponents who delivered four boxes of signatures to BSA headquarters Monday said they wouldn't be satisfied by only a partial acceptance of gay scouts and leaders.
"We don't want to see Scouting gerrymandered into blue and red districts," said Brad Hankins, campaign director of Scouts for Equality.
Godfrey understands that no one decision will go over well.
"You're going to get folks who withdraw their support one way or the other. But scouting will survive these things. But I would hope it's not all about money. As far as this council's concerned, it's all about the boy."
Contributing: ksl.com
×
Photos
Related stories
Most recent U.S. stories