Estimated read time: 2-3 minutes
This archived news story is available only for your personal, non-commercial use. Information in the story may be outdated or superseded by additional information. Reading or replaying the story in its archived form does not constitute a republication of the story.
Alex Cabrero reportingThe White Owl Bar in Logan has a reputation for tough enforcement of the age requirement. But a 19-year-old girl got in during an undercover sting, and now the place is closed at its busiest time of the year.
Two undercover 19-year-olds tried to get in. The doorman caught the first one and kicked her out, but he let the second girl in. The owner says he has to close for five days now, despite his reputation.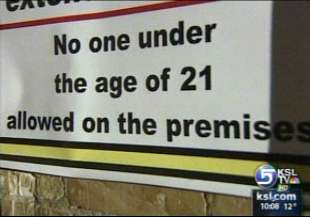 It doesn't look like much, but John Calderwood is hoping a little scanner will save him a lot of trouble. Calderwood is the owner of the White Owl Bar in Logan. In his 24 years, he's gotten quite a reputation for going after underage people who try to get in. "Everybody knows we're the toughest there is," he says.
Logan resident Doug Thomas told Eyewitness News, "They card me, and they know me. They card me every time I come in."
There are signs everywhere. Calderwood even has underage people arrested for trying to get in and posts their court cases after he sues them for trespassing. "You gotta start being a little more hardcore, because just letting them go, all they're going to do is go to the next bar and the next convenience store," Calderwood says.
So when an undercover teenager got in and bought beer, he was mad. Calderwood fired the doorman who let her in because the doorman did the wrong math on her birth date. That's why he has the new ID bar-code scanner. But because of the incident, he has to close for five days and pay a $1,000 fine.
What really upsets Calderwood are the actual laws. He says if a grocery store was caught selling alcohol to someone underage, it would get only a written warning for its first offense, then just a few hundred dollars in fines for the second or third offenses. He says that's not right and it's not fair, which is why he is talking to legislators to try and get the laws changed.
"I worked with them last summer, and hopefully I'll get called up to testify again this session," Calderwood said.
That's not counting the thousands he'll lose in revenue on New Year's Eve and the money his employees can't earn. "We got some single mothers, and well, five days isn't a huge amount of time, but it's significant for everybody," he said.
The sting was done by the Department of Public Safety. The Division of Alcoholic Beverage Control told us when deciding penalties, it doesn't take into account past violations, or in this case, efforts to obey the laws.
×
Most recent Utah stories