Estimated read time: 3-4 minutes
This archived news story is available only for your personal, non-commercial use. Information in the story may be outdated or superseded by additional information. Reading or replaying the story in its archived form does not constitute a republication of the story.
JOHANNESBURG — The dung beetle, a creature that makes its living in the lowliest of places, uses perhaps one of the loftiest sources of light to guide itself: The Milky Way.
That majestic ribbon of stars that has inspired astronomers, as well as been a subject of well-known myths, like the breastfeeding of Hercules, also happens to be how dung beetles make sure they are rolling little balls of poo in straight lines. Not only that, but they are the first animal to be shown to use the galaxy itself for navigational purposes.
Keeping a hold of your dung is tricky business for a these inch-long beetles. They use the stuff for food and nesting and gathering it is central to their activities. But there's only so much to go around.
Once they have made a ball, dung beetles need to get it away from the larger pile as quickly as possible. That means traveling in a straight line. If you take a curved path, you could end up where you started, and another beetle could get your dung ball.
The sun provides a fine reference point during the daytime, but at night there's less light. The moon is often used as a reference point at night, but researchers noticed that even on moonless nights the beetles were able to take their balls in straight lines.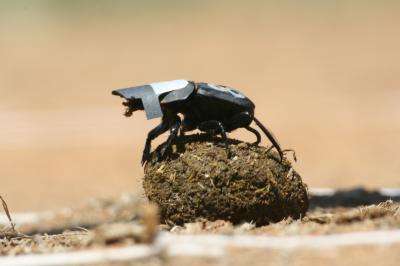 "We were sitting out in Vryburg (conducting experiments) and the Milky Way was this massive light source. We thought they have to be able to use this — they just have to," said researcher Marcus Byrne of Wits University in Johannesberg.
The hunch turned out to be largely correct. On nights when the sky was overcast, researchers recorded curvy paths for the beetles. But when the moon or the stars were visible, the paths were largely straight.
"This clearly shows that the beetles do not orientate to a single bright 'lodestar,' but rather to the band of light that represents the Milky Way," the study states.
Many animals use interesting and clever ways to get around. Some birds use magnetic areas in their brains to orient to the Earth's magnetic field; salmon may use smell to choose the right river to swim up; and some animals use especially bright stars or the moon to get around at night. But dung beetles are the first to use the galaxy itself for navigation.
The likelihood that other animals also use the Milky Way for navigation is high, according to some.
"I would not be surprised if other nocturnal insects — or maybe other animal groups — might be able to use a diffuse but directional cue such as the Milky Way," Bradley Mullens, an entomologist at UC Riverside who was not involved in the study, told the LA Times. "Maybe this paper will stimulate more studies of that nature."
The study was published in the Jan. 24 issue of the journal Current Biology.
Top image courtesy of Emily Baird
×
Related links
Related stories
Most recent Features stories