Estimated read time: 4-5 minutes
This archived news story is available only for your personal, non-commercial use. Information in the story may be outdated or superseded by additional information. Reading or replaying the story in its archived form does not constitute a republication of the story.
SALT LAKE CITY — BYU point guard Matt Carlino has had an up and down season shooting the ball, but Saturday against Portland Carlino led the Cougars in scoring with 24 points.
The third time this season he's led the team in scoring.
But one particular shot in the second half was indicative of the type of year he's had.
Carlino drove to the hoop from the top of the key. As he went for the shot he was fouled and flipped the ball over his head.
The high-arching shot went up and straight down through the hoop for an "and 1."
He acted like he'd "been there before," but that was pretty awesome.
LeBron hug
Speaking of awesome, what's worth more: $75,000 or a hug from LeBron James?
During halftime of the Heat's game against the Pistons, computer technician Michael Drysch was chosen to shoot a half-court shot worth $75,000.
Drysch launches the 42-foot shot sky hook-style and some how it goes in.
Drysch raises his arms in celebration, then out of nowhere comes James who tackles Drysch to the floor with an "I can't believe you just nailed that shot" -look on his face.
Pretty incredible shot. Pretty awesome seeing LeBron live it up with the fan.
Seems like a pretty decent dude.
Dunk of the Weekend
And for the obligatory Dunk of the Weekend, I give you the Celtics' Jeff Green against LeBron's Heat.
Green takes the ball on the wing, blows past LeBron, then soars over Chris Bosh for the one-handed finish.
That was just pretty and an attempt to put a smile of Celtics fans who are now dealing with the loss of Rajon Rando, who's out for the season with a torn ACL.
Record-setting futility
Northern Illinois might have gotten to a BCS football game, but their men's basketball team is on the opposite end of the success spectrum.
On Saturday the NIU Huskies set a record for the least amount of points scored in a half with four. They broke their own record of ineptitude set a few weeks earlier against Dayton with just five points.
The Huskies made just one field goal before halftime against Eastern Michigan, and it came in the first minute of the first half, on their way to a 42-25 loss.
Look at the bright side, they scored 21 points in the second half- more than five times what they scored in the first frame.
And talk about finding a silver lining. Check out out NIU pumped the performance: "Northern Illinois posted its best defensive effort in seven seasons allowing just 42 points on Saturday afternoon, but it came in a losing effort as the Huskies fell to Eastern Michigan, 42-25."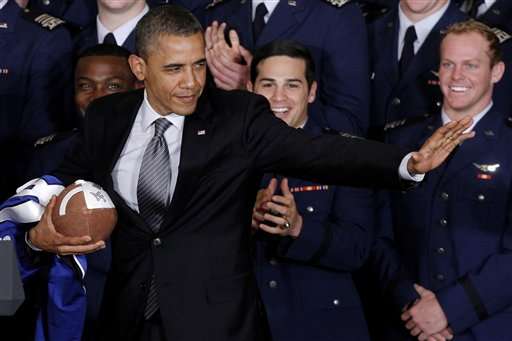 Nice. Very nice.
Obama: Tough call on rough sport
Pres. Obama says if he had a son he'd "have to think long and hard" before letting him play because of the physical toll the game takes.
"I think that those of us who love the sport are going to have to wrestle with the fact that it will probably change gradually to try to reduce some of the violence," Obama tells The New Republic In an interview in the magazine's Feb. 11 issue. "In some cases, that may make it a little bit less exciting, but it will be a whole lot better for the players, and those of us who are fans maybe won't have to examine our consciences quite as much."
The NFL's response: "We have no higher priority than player health and safety at all levels of the game," said. NFL spokesman Greg Aiello.
The President has only daughters, but could you imagine if either one wants to play in her high school's Powder Puff game?
Super Bowl commercialsWith less than a week away, Super Bowl commercials are coming fast and furious leading up to Super Bowl Sunday.
There will be some great ones, some good ones and some horrible ones (GoDaddy.com seems to reign in this area), but we can't give an overall score until we've seen them all.
So, to give you a head start here are a couple to watch before the big game.
And as a special treat I've added a third commercial from Volkswagon, that may be one of the best ever.
Enjoy!
×
Most recent Sports stories