Estimated read time: 2-3 minutes
This archived news story is available only for your personal, non-commercial use. Information in the story may be outdated or superseded by additional information. Reading or replaying the story in its archived form does not constitute a republication of the story.
Sarah Dallof reporting Skiers and snowboarders got their Christmas wish: fresh powder and lots of it. Resorts were open and operating today for those who prefer to spend their holiday on the slopes instead of by the fire.
It was a great day for skiing, with one little exception: the temperature. When Eyewitness News arrived at Snowbird, it was 14 degrees. When we left, it was 13 degrees. Still, we met a lot of people who weren't letting the cold keep them from having a great holiday.
If you snap on your skis and hit the slopes at Snowbird, you may run into the man of the hour. "Santa got exactly what he wanted for Christmas: big powder!" John Widrow, a.k.a. Santa, said.
Widrow even attached Christmas lights to his red hat. Kids couldn't help but notice him. "They always wave at me, 'Hey, Santa!' You have the big hand out; you always have to wave back at 'em. I already gave out the candy canes. They're all gone," Widrow said.
He wasn't the only man in red taking runs. A second Santa and Mrs. Claus were snapped in a photo on top of the hills.
While there may not have been enough candy canes to go around, there was more than enough snow. "We say life is good right now. It's really good for us," skier Lauren Rebuck said.
David Hyman, also a skier, said, "There's no better Christmas present than a foot of fresh and no lines."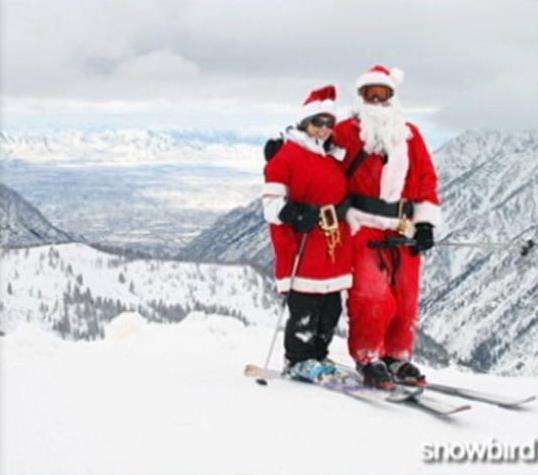 Many skiers and boarders are return customers, people who have more or less grown up on the slopes. "This is my seventh year out at Snowbird. It's a family tradition," skier Max Applebaum said.
"I've come with the same family every year," skier Jenna Karkuff said.
Those who are familiar enough with the terrain and conditions to give them an only slightly biased rating. "This year? Three thousand times better than last year!" Hyman said.
Skiers and snowboards had a lot of resorts to pick from this year because they're all open. Just last week, Deer Valley opened a new chairlift and new runs.
×
Most recent Utah stories