Estimated read time: 2-3 minutes
This archived news story is available only for your personal, non-commercial use. Information in the story may be outdated or superseded by additional information. Reading or replaying the story in its archived form does not constitute a republication of the story.
When people think of BYU Football historically, it usually conjures up images of high-octane offenses throwing the football all over the field. That has been BYU's identity since Lavell Edwards took over the football program back in 1972. That identity has been lost over the past two seasons.
BYU's offense means something, and it's time to get back to the Cougar offenses that BYU fans have grown to appreciate over the years.
BYU offensive coordinator Brandon Doman has been relieved of his duties in favor of former OC Robert Anae. While on the surface it looks like an odd move, Anae's hiring makes sense the more you think about it. The only season the BYU offense struggled significantly under Anae was in 2010, when Nelson and Heaps shared the duties early, before finally settling on Heaps. Prior to that season, the Cougars were ranked as one of the best offensive units annually. Now that we all know what we want BYU's offense to accomplish, who will Anae hiring to help carry out his plan?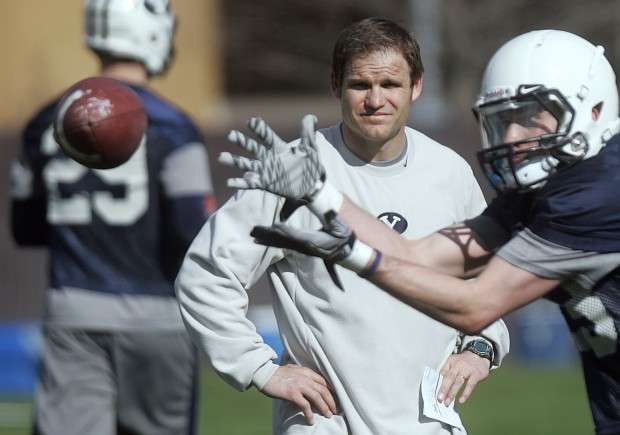 BYU running backs coach/recruiting coordinator Joe DuPaix and wide receivers coach Ben Cahoon were informed on Monday that they would not be retained. That leaves a huge hole in the coaching staff. Like most people, I was very surprised to see both guys go, but especially Cahoon. The BYU receivers have improved significantly over Cahoon's two seasons. Nobody wants to go back to 2010 when catching the football was an issue.
No matter who Anae hires, it is obvious they will be "his guys." While we can all disagree on why certain decisions were made, we can all relate to wanting people around us that we're comfortable with. If the path to success is lined with tough decisions, then so be it, but results have to follow the changes. We live in a world where results are the bottom line. It's that way in life and it's that way in sports.
If BYU's offense returns to the its rightful place as one of college football's best, nobody will blink an eye at the complete overhaul of the BYU offensive coaching staff. If things don't work out, the second-guessing we all love to do will be at an all-time high.
×
Most recent Sports stories