Estimated read time: 2-3 minutes
This archived news story is available only for your personal, non-commercial use. Information in the story may be outdated or superseded by additional information. Reading or replaying the story in its archived form does not constitute a republication of the story.
Ed Yeates reportingResearch shows if people who are aging exercise their minds, they might be able to postpone or ward off dementia. The data is convincing enough that some senior centers, including some in Utah, are promoting "mind games."
If all you remember about senior community centers is an image of simplistic exercises, then look again. Beyond toe and wrist stretching, it's video games that stimulate the mind. Thought Wii was just for wee ones? Folks at Silver Pines are playing the games just like their grandkids but for a different reason.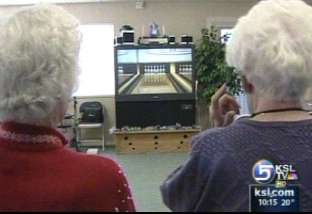 They're playing other games too, like Scrabble, which stimulates Jackie Jackson's memory by forcing the brain to activate inactive reserves that are still there. "You learn words and spelling, and as we get older we sometimes forget how to spell. This way we keep in touch," Jackson said.
A study in Psychological Medicine shows those who continue feeding the brain lower their risk of losing brain reserve by 46 percent. That's why Margaret Dunn and friends play this strategy game.
Dunn said, "It really makes you think, and it's really good for you. It really is."
Another study in the New England Journal of Medicine says folks who read, play board games, or compose in crossword puzzles or even on a musical instrument are less likely to develop dementia.
Rita Garbett, with Home Instead Senior Care, says, "I've noticed a huge difference, mainly in just the social interaction they have."
While people have no control over genetics that trigger unfortunate diseases like Alzheimer's, the environment - how we stimulate that gem inside the skull - plays a significant role in keeping it healthy.
A spokesman for one Seattle game manufacturer says his company was stunned by a customer survey last year, which found that 47 percent of players on the new-generation games were older than 50.
×
Most recent Utah stories