Estimated read time: Less than a minute
This archived news story is available only for your personal, non-commercial use. Information in the story may be outdated or superseded by additional information. Reading or replaying the story in its archived form does not constitute a republication of the story.
Marc Giauque, KSL NewsradioThe big storm is now east of Utah, leaving good and bad in its wake. Some people hate it, others love it.
Mike Hatfield is driving east to Iowa. It was slow going overnight, but that was OK for him.
"There's nothing you can do," he said. "There's no sense in risking your life over -- like I've got a full load of carrots."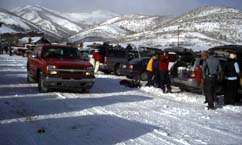 Hatfield says this is his third big storm this season. He says this was pretty mild compared to that big ice storm in the Midwest. A few miles away on the slopes...
The storm is paradise for skiers, who just a few weeks ago were on nearly-bare slopes and man-made snow.
"I haven't been up since the last three storms," one skier told us. "There's a lot of people up here."
Those storms have brought several feet of new snow to the mountains.
×
Most recent Utah stories