Estimated read time: 5-6 minutes
This archived news story is available only for your personal, non-commercial use. Information in the story may be outdated or superseded by additional information. Reading or replaying the story in its archived form does not constitute a republication of the story.
PROVO — Brock Zylstra came to Brigham Young University in 2006 as a 6-6 guard from La Verne, Calif., having averaged 22 points and 12 rebounds a game as a senior at Bonita High School.
Six years have passed, and Zylstra has reached a milestone in his career — 100 games played. Getting there wasn't always easy, but a commitment to hard work fueled by an excitement for the game has helped Zylstra put on the No. 13 jersey for four straight years.
With 45 seconds remaining in the game, the Iona Gaels were down by three points after playing with the lead for 37 minutes and 32 seconds. The Gaels moved the ball around the floor, getting the ball in the hands of Ra'Shad James. James attempted a shot at the rim, but Brandon Davies and Noah Hartsock rose up to contest the shot.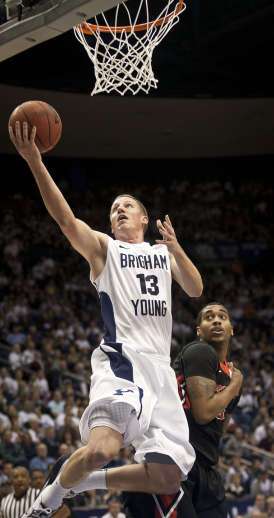 "I got the block and the rebound, threw it down to him, and he got a layup on the other end," Davies said when asked about the play. "I just remember seeing him light up. Those 30 seconds of basketball right there just shows you how seriously he takes the game and how much he enjoys it."
Those 30 seconds contained Zylstra dribbling nearly the entire length of the court, getting a shoulder past his defender, getting fouled on the shot attempt, and giving BYU a six-point lead that would be the final margin of victory.
Many BYU fans remember that moment, and the emotion that was visible in Zylstra's face after converting the shot. It was an iconic moment for the team, and one that won't be forgotten.
"Whoever took that picture, it's engrained in my mind with that game," Zylstra said.
The team would lose the next game in the NCAA tournament to Marquette, 88-68, ending their postseason run. Now, Zylstra is one of two seniors on a young BYU team, and is providing leadership as a team captain.
Zylstra had one of his best games of the season in the previous game against San Francisco, playing 34 minutes and scoring 16 points on 75 percent shooting, as well as seven rebounds. Zylstra accounted for eight straight points for BYU just before the close of the first half, helping keep the game from escaping from the team.
Zylstra's career at BYU did not start with a large amount of minutes. Zylstra walked on to the team, earning a redshirt before serving a mission in New Zealand for The Church of Jesus Christ of Latter-day Saints. Zylstra scored 52 points after returning to the team — in two seasons.
"I just worked hard, starting with just a few games and very few minutes to a little bit more time, to my junior year and quite a bit of time, and then this year and a similar situation as my junior year," Zylstra said.
Zylstra is unlikely to end up in the record books after his career. Barring injury, Zylstra will finish the regular season with 114 games played, well short of the 141 games played record set by former teammate Charles Abouo.
But when asked about how he will feel about that last game, Zylstra responded that he doesn't give it much thought.
"All I have to reference is my senior season in high school and also looking at guys, like last year with Charles Abuou and Noah Hartsock, and seeing their last game and how they reacted, and how it was a sad time for them," Zylstra said. "Just seeing some of the other seniors and how hard they kind of took it and how they realized their time at BYU was over. I haven't thought about it too much, but I'm sure it will be a hard time."
Zylstra will join Davies on February 28, as the Cougars host the Gonzaga Bulldogs, and celebrate his time playing with the team. The two have played together the past four years, time that has left a positive impression on Zylstra's fellow captain.
"Brock, he's always been fun to be around," Davies said. "He'll do whatever it takes to win, and he's a great teammate, on and off the court. He'll do anything for you."
The future is not scripted out like the plays coach Rose draws on the board during timeouts. Zylstra is graduating in April, having studied commercial management.
"To be honest, I'm not sure what my plans are after graduation. That's something that my wife Sarah and I talk about a lot. Maybe once it gets closer to the end of the semester I'll be able to lock it down more."
When asked what he will remember from his playing days at BYU, Zylstra responded in pattern with the hard work and effort he has exhibited throughout his career.
"I think the thing that will stick out is the winning culture here," Zylstra said. "I think, as a basketball team, what Coach Rose has developed here is that every one of his teams wins, and wins a lot of games. You can take that into a lot of aspects of your life, knowing that you can triumph over anything that comes your way and you can succeed in the challenges that face you."
Zylstra and his teammates host the Pepperdine Waves Thursday night at the Marriott Center, with tipoff at 7:00 p.m. MST. Pepperdine is 9-6, with a 1-1 conference record.
Daniel Lewis is an intern with KSL.com, and covers the BYU men's basketball team. He is studying communications at BYU.
×
Related stories
Most recent Sports stories