SALT LAKE CITY — A woman who pleaded guilty to driving through a glass door with her SUV to hit her husband nearly six-and-a-half years ago was sentenced Tuesday to one year in jail.
Brenda White, 36, pleaded guilty in August to aggravated assault and criminal mischief, both second-degree felonies, in connection with the April 26, 2006, incident.
White and her estranged husband, Jon White, had been arguing about welfare and child custody. She also believed he was having an affair and was addicted to pornography, according to charging documents.
On the day of the incident, Brenda White went to her husband's workplace to talk about refinancing their home but he refused to sign certain documents. Prosecutors say she then called him a "parasite" and told him "she was going to wipe him off the earth."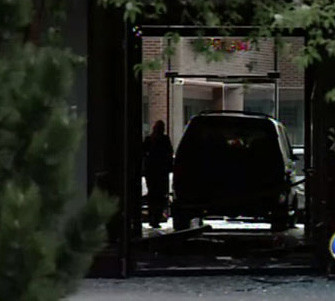 She left the workplace but returned four hours later — after reportedly taking "a handful of Xanax" — and chased him in her SUV as he scrambled for safety. White drove her vehicle through the Salt Lake office building's glass door and hit Jon White, throwing him about 10 feet. She then hit him a second time after he got up.
Both of Jon White's legs were broken. Brenda White was originally charged with attempted murder. Her guilty pleas came a week after her original case ended in a mistrial when it was determined jurors may have been talking about the case outside of the courtroom.
Third District Judge William Barrett suspended White's prison sentence in favor of ordering her to serve a year in jail with instructions for no early release. She was also ordered to perform 300 hours of community service and be on 36 months probation after she is released.
×
Photos
Related Stories