Estimated read time: 2-3 minutes
This archived news story is available only for your personal, non-commercial use. Information in the story may be outdated or superseded by additional information. Reading or replaying the story in its archived form does not constitute a republication of the story.
Amanda Butterfield reportingIt's a week before Christmas, and some of you may be getting stressed. There's a lot to do, with finding the right gift, preparing for the in-laws, keeping track of money, and the list goes on.
Today we tried to figure out the best ways to keep your cool during crunch time.
Wandering the city sidewalks of Salt Lake, it wasn't too hard finding shoppers carrying around stress.
Melissa Stringham said, "Yeah, a little bit. [I'm] trying to figure out what presents to buy for who."
Rachel told us it's, "Horrible! This is my first day shopping and I've gotten three gifts. I have 15 people to shop for." Is she feeling stressed? "Just a little, yeah," she said.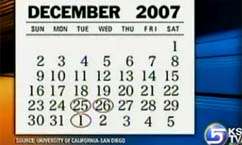 Holiday stress is very real and can be deadly. Researchers actually have found that Christmas day, the day after, and New Year's day are three of the deadliest days of the year, due to heart attacks. And you can probably guess why.
Tammer Attallah, a licensed clinical social worker at Valley Mental Health, said, "Traditionally stress does increase quite a bit during this time of year."
Rachel said, "Trying to find presents for everybody, it's difficult to know what everybody wants. [It's difficult] trying to get that right gift."
Melissa admitted, "I don't handle it very well."
It's the presents, the money being spent, preparing for family, that Tammer Attallah says can get people's heart rate going. Here's what he suggests to melt away that unwanted stress: "Have realistic expectations. The idea you're going to have a movie-like holiday is a real set-up," Attallah said.
Another thing that can make a big difference: :Spend a little bit of time every day to reduce stress, taking a walk for 15 minutes, any sort of down time you might have," Attallah said.
It's true not everyone has a stressful holiday. Those who don't are the lucky ones.
A shopper named Bill said, "My wife has done our shopping. This is the only shopping I've done." He doesn't get stressed. "I'm lucky. I have a good wife who handles it all," he said.
Kris and Emily Silva also are handling the holidays well. "[We're] so not stressed this holiday," they said.
×
Most recent Utah stories