Estimated read time: 2-3 minutes
This archived news story is available only for your personal, non-commercial use. Information in the story may be outdated or superseded by additional information. Reading or replaying the story in its archived form does not constitute a republication of the story.
Whit Johnson reporting Snowboarding versus skiing: The rivalry may be heating up, thanks to a challenge from Burton Snowboards. The company is offering a cash prize for snowboarders who sneak onto ski-only resorts and video tape it.
There are only four ski areas in the country that still don't allow snowboarding. Two of them -- Alta and Deer Valley -- are here in Utah.
Video is popping up on the Internet of what Burton calls poaching, and it's generating some mixed opinions.
The most creative documentation of the poaching experience gets $5,000. If you hit all four non-snowboarding ski areas, the award is $20,000.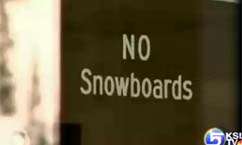 The challenge from Jake Burton, the founder of Burton Snowboards, has been met. Videos are already pouring in on its Web site, and the banter between snowboarders and skiers can be heard on the slopes.
Skier Kian Torab said, "I don't like skiing with snowboarders, to be honest with you, because they're two different sports."
Snowboarder Garrett Simmons said, "They're not down with change, and they don't like snowboarders, so I think it's a good deal. I think we've got to get up there and do it."
Deer Valley Resort and Alta Ski Area are the two Utah targets. No snowboarding allowed.
Alta's general manager, Onno Wieringa, said, "Their marketing department is trying to figure out something to get them some free publicity, so they stir this up every few years."
Wieringa says he hasn't noticed many poachers, and he's not concerned with the challenge.
"For the most part the snowboarders we deal with are great," he said. "They call it the snowboarding season before we open in the early winter. They come up for a month, and we let them hike everywhere, do everything."
He says Alta's ski-only mountain is purely a business decision catering to a specific market. If the demand changes down the road, perhaps so will the rules.
"A lot of them are skiers. You know, they snowboard sometimes, they ski sometimes, and they understand what we're doing," Wieringa said.
But in the meantime, the rivalry between the skis and the boards continues.
Michael O'Brien skis and snowboards. "Part of the sport is excitement, so why not?" he said.
Burton Snowboards says it's discrimination not to allow snowboarding in certain areas. One of the four non-snowboarding ski areas, which is in Taos, N.M., will begin to allow snowboarding later this ski season.
×
Related links
Most recent Utah stories