Estimated read time: 2-3 minutes
This archived news story is available only for your personal, non-commercial use. Information in the story may be outdated or superseded by additional information. Reading or replaying the story in its archived form does not constitute a republication of the story.
Nicole Gonzales reporting Law enforcement officers asked drivers on Saturday night to slow down and watch out for unexpected slick spots on the roads. There were nearly 30 accidents Saturday throughout Salt Lake County, two of which were injury accidents in the Cottonwood canyons.
It was a hectic day for the Salt Lake County Sheriff's Office. Deputies say that without snow on the roads, people aren't as cautious and are more likely to speed. They say that mentality can be dangerous, as we saw Saturday.
On a ski day like today, the Cottonwood canyons were especially busy. Unfortunately, that traffic was made worse by several accidents.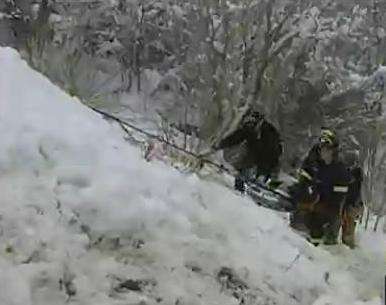 In Little Cottonwood Canyon, a 35-year-old woman was injured when she swerved off the road and slid down a 60-foot cliff. The Unified Fire Authority used cables to help pull the woman up the hill. AirMed then flew her to University Hospital in critical condition with non-life-threatening injuries.
Officials say these types of road conditions can fool a lot of people. "It's really deceiving sometimes just 'cause the road looks dry, there's no snow on the road. Because of the temperatures and the moisture, there's still a lot of black ice. Then anytime you're driving in the canyons, you're dealing with angles, with the hill of the road, the slopes, and then all of the curves. So, it just adds to it," explained Paul Baker, of the Salt Lake County Sheriff's Office.
Another woman was injured when her truck rolled down an embankment in Big Cottonwood Canyon. Her truck landed in the creek, but the woman was able to get out on her own. She was taken to the hospital with minor injuries.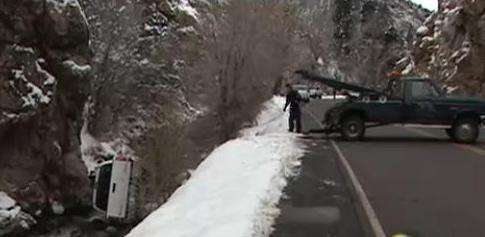 Sheriff's deputies say when these accidents happen, people need to be extra careful as they try to get around them. "Both Big and Little Cottonwood canyons are one way; one way in, one way out. So with the roads blocked by an accident, that's the only way in or out, so you have to be patient. We'll get the road open as soon as we can," Barker said.
Authorities don't believe either of these accidents involved alcohol. The sheriff's office is still investigating the Little Cottonwood crash.
×
Most recent Utah stories