Estimated read time: 2-3 minutes
This archived news story is available only for your personal, non-commercial use. Information in the story may be outdated or superseded by additional information. Reading or replaying the story in its archived form does not constitute a republication of the story.
Alex Cabrero reporting Being a venue site for the 2002 Olympics was a pretty big deal for Park City. What might be more important, though, is the city's new police station. The new building has a lot of people up there really excited.
The Park City Police Depatment has wanted its own building for years. They've always shared space with City Hall, which meant a lot of cramped offices. So naturally, they are excited about the new station, and so is Mother Nature.
It's not an art studio or a fancy restaurant, though being in Park City it sure looks like one. No, this place is actually the new police station.
Park City Police Chief Lloyd Evans has been dreaming of a new place for nearly 10 years. "Oh, I'm numb; pretty excited," he said.
But this is way beyond any of his dreams. "I gotta be honest with you, a couple of years ago when we started talking about this, I was a little skeptical," Evans said.
That's because along with a new dispatch center and more room for investigators, this building also has passive solar designs; a heat-reflective, drainage-collecting, sealed-membrane roof, and a geothermal heating and cooling pumping system.
"I think this sends a real clear message that the government here in Park City is concerned about resources," Evans said.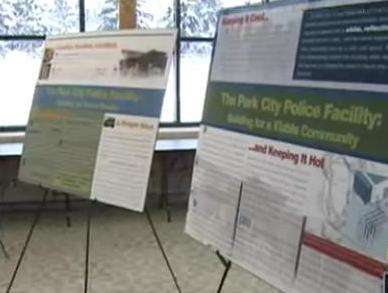 That's right, this new police station is green--environmentally friendly. With city and Summit County leaders starting to take a hard look at air quality and natural resource consumption, this building comes at the right time.
"I think it's very important. I mean, you can only have so many resources and then you're, you're gonna run out. So, we're glad to be a part of it," Park City Police Sgt. Lynn Nagel said.
Park City resident Alex Butwinski says, "This is gonna hopefully take us well into the middle of this century."
Not only is this new building saving energy, it's also saving money: Chief Evans figures close to 50 percent on heating alone. "If it saves my budget, if I don't have to put out as much money on energy and I can use that for better equipment, then I'm all for that," Evans said.
The station will also be the center of operations if there is ever a disaster in the city, or even the county. So, while it is an environmentally friendly building, it's still a high-tech police station first.
×
Most recent Utah stories