SANDY — A registered sex offender was charged Wednesday with touching the buttocks of an 11-year-old girl at the Festival of Trees.
The case holds special interest not just to the young girl and her family, but to the family of another young girl who he killed in 1982 in New Orleans.
Christopher Joseph Rebstock, 47, was charged in 3rd District Court with aggravated sex abuse of a child, a first-degree felony.
Friday night, Rebstock was at the South Towne Expo Center, 9575 S. State, when an 11-year-old girl who had just walked off the stage after performing with her dance troupe at the Festival of Trees "felt someone rub her bum," according to charging documents.
Other festival patrons told police they witnessed Rebstock grabbing the little girl's butt and chased him down and held him until officers arrived.
Rebstock is a registered sex offender and currently on parole. In 2001, Rebstock pleaded guilty to an amended charge of attempted aggravated sex abuse of a child, a first-degree felony, in exchange for a charge of sodomy of a child being dropped, according to Utah state court records. He was released from prison in 2009.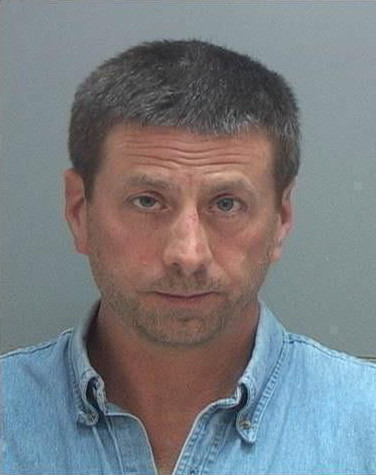 Rebstock also served over a decade in prison for manslaughter for killing a 12-year-old neighbor girl in New Orleans in 1982. He was 16 at the time of Lara Deutsch's death. He was released early, however, when the Louisiana State Supreme Court ruled that Rebstock's confession was not obtained legally.
Ever since then, Dana Deutsch, Lara's brother, has always kept an eye on Rebstock, even when he was arrested in 2001. He said his family will be watching his latest case from New Orleans.
"Hopefully they get it right this time," he told the Deseret News. "It's a sense of relief."
Deutsch said he and Rebstock were friends from the time he was 7 up until the day he was arrested. Lara was a close friend of Rebstock's sister. On the day his sister was killed, Deutsch said Rebstock came over to his house as if to help console the family like other mourners. He noticed that Rebstock had a cut under his eye that he attributed to playing Frisbee.
The next day, police questioned Deutsch about Rebstock and he mentioned the cut. A few hours later, his former childhood friend was arrested.
Today, Deutsch said he has two daughters of his own, one named after his sister.
"I've always worried about him maybe moving home one day and having him free and having to see him again, and I'm hoping this time they get it right and put him away because that's obviously where he needs to be," he said.
Deutsch said his sister's death was extremely hard on both families. His mom, who died earlier this year, "just never recovered from my sister's death."
"Tore her to pieces," he said. "She certainly was never the same lady from that moment on."
He said his mother turned to alcohol as an "escape" following Lara's death and ended up battling alcoholism for years up until her death.
Deutsch said he'd be willing to travel to Utah to testify if Rebstock is convicted and sentenced on his current charge.
×
Photos