Estimated read time: 2-3 minutes
This archived news story is available only for your personal, non-commercial use. Information in the story may be outdated or superseded by additional information. Reading or replaying the story in its archived form does not constitute a republication of the story.
BUCKINGHAMSHIRE, England — A trivial question on a social network site has led to a scientific test: how tall can a tower build out of LEGO bricks get before the bottom bricks are crushed?
"How many Legos, stacked one on top of the other, would it take to destroy the bottom brick?" Reddit user "daesoph" asked in July 2011. A year and a half later, the question has been answered by researchers at the U.K.'s Open University: a LEGO tower would have to be 2.17 miles tall before the bottom brick would be crushed.
The question came to the attention of the researchers after the BBC asked the university about it for the company's "More or Less" program. Dr. Ian Johnston was surprised to find the question was not readily available on the Internet, so he turned to the university's hydraulic testing machine to figure it out for himself.
The LEGO bricks were placed between two metal plates. A load cell above the top plate measured the force exerted on the bricks and found one could stand, on average, 4,240 newtons of force: the equivalent of 950 pounds. Instead of exploding or snapping, the LEGO simply appeared to melt.
Johnston divided that by the mass of a single brick — 1.152 grams — to find 375,000 bricks would have to be stacked to crush the bottom one.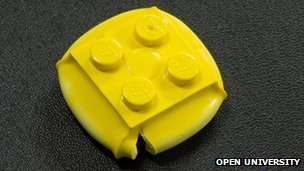 "That's taller than the highest mountain in Spain. It's significantly higher than Mount Olympus, and it's the typical height at which people ski in the Alps," Johnston told the BBC.
Johnston was testing a 2x2 brick. He said a 2x4 brick would fail sooner, and a 1X2 brick would likely be able to handle more. But he said "there isn't a chance you could do it in reality," because "long before the brick fails, the tower would fail as a structure itself, by buckling.
"The other thing you have to remember is that we were very careful to load this equally down the middle, so that all four walls were loaded."
LEGO towers may not be able to reach breaking point, but they are popular throughout the world. A 500,000-brick, 105-foot tower was built in South Korea in May to mark the toy's 80th birthday. It beat the previous record, out of France, by only 30 centimeters.
×
Related links
Related stories
Most recent Science stories