Estimated read time: 2-3 minutes
This archived news story is available only for your personal, non-commercial use. Information in the story may be outdated or superseded by additional information. Reading or replaying the story in its archived form does not constitute a republication of the story.
Jed Boal and Tom Callan reporting Local fire departments are urging Utahns to think about their safety after a couple died in their home this week. The fire departments want to help the public protect their homes with carbon monoxide and smoke detectors.
The risk for carbon monoxide poisoning surges in the winter because that's when we heat our homes. But a simple $25 detector could save your life. Eyewitness News met a woman who's alive today because she had one of those detectors.
The screeching sound of a CO detector could have saved Nicole Lucas' life. "It's like this long beep, and then it pauses, and then it comes again: beep. It's really loud. It's very distinctive so you can hear it when you're asleep," Lucas explained.
Her landlord recently installed a CO detector in her home because it's now the law in Ogden to have one. When she heard that beep Sunday, at first, the sound didn't register. "Then when it went off again, it hit me, like, that's that thing!" Lucas said.
Lucas called 911, and the operator told her to grab her three children and get out of the house. Carbon monoxide readings were deadly, possibly from a gas fireplace or a car running in the garage.
"If I had gone home and hadn't decided to sit down and watch a movie, I would have been dead. Me and my kids would have passed away in our sleep," she said.
Carbon monoxide killed a couple in West Valley City during the weekend. They ran a gas-powered generator in an attached garage to power appliances during a power outage.
CO is an odorless, invisible gas produced when fuels--like natural gas, wood and propane--are not completely burned. Right now, Ogden is selling detectors to residents at a reduced price.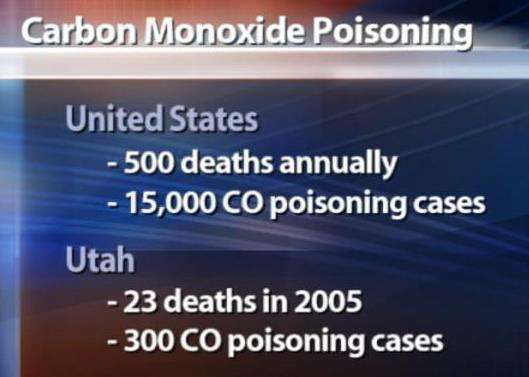 "We knew that there were incidents and issues recurring, and to see within a month that it saved a mother and three children is wonderful news to us that we're making a difference," Ogden Fire Deputy Chief Chad Tucker said.
Carbon monoxide poisoning kills an estimated 500 people in the United States every year. It sends 15,000 more to the emergency room. In 2005, CO killed 23 Utahns and sickened another 300.
"Everyone needs one of these in their homes," Lucas said.
Many local fire departments offer free carbon monoxide detectors and smoke detectors when grant money is available. Call your local department to see if they have them.
For details on carbon monoxide poisoning click the related link.
×
Related links
Most recent Utah stories