Estimated read time: 1-2 minutes
This archived news story is available only for your personal, non-commercial use. Information in the story may be outdated or superseded by additional information. Reading or replaying the story in its archived form does not constitute a republication of the story.
LEHI — There are 100,000 lights in the Sorensen family Christmas light display. Of those, 13,440 belong to a spiral Christmas tree Eric Sorensen calls "unbelievable."
Most of those lights have been added over the past two years. There were 20,000 lights Christmas of 2010. In 2011, that number jumped to 70,000. This year, the Sorensens added 30,000 more.
"I just enjoy it," Sorensen said. "I enjoy the Christmas season, the atmosphere of Christmas."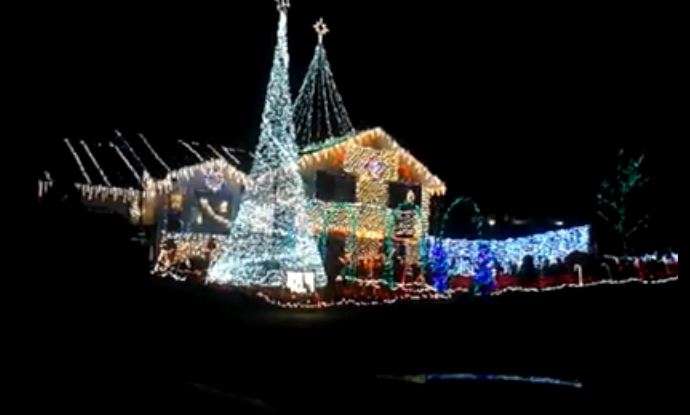 The family's Christmas decorations have become a draw to their north Lehi neighborhood. Sorensen said about 10 cars a night visit the house between Thanksgiving and New Year's. That number increases to at least 30 cars on Christmas Eve. Visitors leave thank you notes, cookies and all kinds of things to tell the Sorensen's how much they appreciate the light show.
Every Thanksgiving, the family invites friends, neighbors and "anyone who wants to come" for cookies and hot cocoa — and to turn on the lights, which will be on from 5 p.m.–10 p.m. every night until Jan. 3.
Utah Holiday Lights Map
The display lasts for about 35 minutes at a time, according to Sorensen, and includes something he believes is unique for this sort of decoration: Santa Claus, projected onto a special kind of paper on a window to make him appear to be there in real life.
It also includes Santa and a reindeer telling the story of Jesus Christ being born, because Sorensen wants the focus of the holiday to remain on things of spiritual importance.
"We always try to get Christmas shopping done early so we can just enjoy the season," he said. "We want to focus on giving back and enjoying it. We want to bring back the spiritual side of Christmas."
The light show can be viewed at 2513 n. 380 West in Lehi between 5 p.m. and 10 p.m.
Video credit: April Espinoza
×
Photos
Most recent Utah stories