Estimated read time: 5-6 minutes
This archived news story is available only for your personal, non-commercial use. Information in the story may be outdated or superseded by additional information. Reading or replaying the story in its archived form does not constitute a republication of the story.
TAYLORSVILLE — As students at Bennion Junior High mourn following the public suicide of a classmate, police and school officials continued Friday to investigate what led to the tragedy.
David Q. Phan, 14, shot himself on the overpass leading to the school, 6055 S. 2700 West, about 3 p.m. Thursday. The shooting was witnessed by other students.
Many people, particularly David's classmates and friends, have speculated out loud and on social media pages such as Facebook that he took his own life because he was the victim of bullying.
But Friday, Granite School District officials said no incidents had been reported to the school in recent months — not even by Phan himself.
"What we have yet to receive from any student is any identification of an alleged perpetrator or details with specific incidents to bullying," Granite School District spokesman Ben Horsley said.
While school officials are investigating bullying allegations, they also noted that David was facing other personal issues and that they have not come to any conclusions about why he took the course of action he did.
"What is clear at this point in time is that David was facing significant personal challenges on multiple fronts. Without detailing private information that is available to us, at this point in time it would not be appropriate to make any formal conclusions," Horsley wrote in a prepared statement.
Related:
Horsley did say that David had reported a "bullying concern" several years ago.
"Consequently, school administration and counselors have stayed in close contact with him since that time. Counselors have further remained in close regular contact with David because of other issues in his personal life. Despite specific personal inquiries, David never reported any further bullying concerns and on the contrary, reported that things were going well."
David had approached a counselor about 18 months ago because of undisclosed personal concerns, Horsley said. He declined to elaborate citing privacy issues, but noted that David did not go to the counselor to address concerns of bullying. However, the counselor did ask David if he had any bullying worries.
The counselor continued to check in with David, but the check-ups were about his overall well-being and not strictly about bullying, Horsley said.
While that didn't mean the district had ruled out bullying as a possible motivation for the tragedy, Horsley said it stressed the importance that all incidents of bullying at any school need to be reported. All incidents, he said, will be investigated.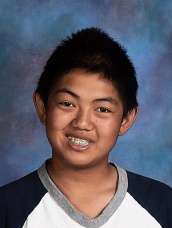 "This is not to say that bullying was not an issue (as that continues to be investigated), but that bullying issues cannot be addressed unless they are reported," he said.
David had been dismissed from school early — a couple of hours prior to the shooting — and went home with his mother. Before going home, there was a meeting between David, the principal and his mother. The school district declined to discuss the nature of that meeting.
David was also searched for weapons before he left, Horsley said without elaborating as to why the boy was searched. Other parents who have students at Bennion have told the Deseret News that being searched for weapons is not common practice for someone being checked out of school early.
The handgun David used came from his home, Unified Police Lt. Justin Hoyal confirmed. The gun had been locked up in a safe at the home. Hoyal said David knew where the weapon was and was somehow able to access it.
As David walked across the skybridge, he ran into a group of seven students he knew, Hoyal said. There was a "very short" conversation between David and the group before David pulled out a gun and shot himself before anyone had time to react. Hoyal declined to discuss what was said between David and the students.
At Bennion on Friday, many students wore blue — David's favorite color — in remembrance of their classmate. Crisis counselors were at both the junior high school and nearby Calvin Smith Elementary School. A grief counselor was assigned specifically to follow David's class schedule on Friday, Horsley said. Ongoing counseling services were also offered in the school library and will be available as long as needed, he said.
The students who witnessed the shooting were allowed after school to have their own moment of silence at the site where David shot himself. Other students, teachers and the media stayed a short distance away as the group visited the makeshift memorial at the spot where the tragedy occurred.
Maxine Christensen, the crossing guard at that overpass, heard the gunshot Thursday.
"He was a nice kid. He was just a very nice, polite boy," she said. "Very nice, very polite young man. Just a great kid to deal with."
---
What we have yet to receive from any student is any identification of an alleged perpetrator or details with specific incidents to bullying.
–Ben Horsley
---
But Christensen said there were also times Phan would come running up to the crosswalk and ask to cross quickly because he said he was being bullied, she said.
Thursday night, a candlelight vigil was held on the overpass.
"He was nice to everyone, even if sometimes people weren't nice to him," said Bennion ninth-grader Brandon Newby.
Ninth-graders Makayla Schmidt and Ponia Clark said they came to the vigil not only in remembrance of the boy they had come to know in their classes, but also to support a friend who witnessed the tragedy. The gathering at the school gave students a chance to mourn together, Ponia said.
"I knew (him) really well, and I think other people needed comfort as well as me," she said, her voice trembling as she looked around at the group. "I needed to find a place where I could cry."
Makayla said bullying is sometimes hard to see, especially when it is done through cruel words.
"I heard it, people (talking about him)," she said. "I don't think people realize how much words can hurt."
School officials have encouraged students to report any incidents of bullying they hear about for any student through a district safety hotline at 801-481-7199. The district also offers an anonymous text service for bullying to be reported at 801-664-2929.
×
Photos
Related stories
Most recent Utah stories